Dolphins vs Packers game Summary

11/11/18

Grading the Dolphins

QB Osweiler is miles away for Ryan. There is a reason teams gave up on him, he is not a starting QB in the NFL. Playing with backup tackles... it showed(23 of 37 for 213 yards and an INT) D-

RB Gore (13 for 90) is Miami's offense and it says a lot about the offense when a 35 year old RB is the best option.. B

WR Amendola was OK (72 yards) as a slot other than that this group isn't very good. D

OL Playing without Tunsil and James is impossible for Miami. I'm surprised Osweiler survived (barely) D

LB Mediocre performance. They just can not stop the run and everybody knows it by now. D

DL 2 sacks but not much more ? run defense ? please... D

Secondary OK so it's Aron Rodgers... They were decent considering it was Rodgers B-

Special teams Matt Haack is the best Dolphin this side of Howard. How bad is that ? Sanders was 4 from 4 with a long of 47, nice game for him. B

Coaching Winning without your starting RT, LT, QB and without a true WR is tough. Doing it on the road against Rodgers is close to impossible - and it showed. C-




On the 1st of November, 1970, RB Mercury Morris, gained a Dolphin record of 302 combined yards. He ran 8 times for 89 yards, received 3 balls for 68 yards and returned 6 kicks for 145 yards.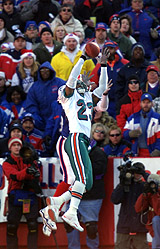 CB Patrick Surtain