Dolphins vs Lions Summary

10/30/22

Grading the Dolphins

QB Tua was just perfect. Amazing game. 29 of 36(over 80%) for 382 yards and 3 TD without an INT for a rating of 138.7... Perfect. A+

RB The Dolphins don't seem to like running. They did have some success with Mostert, he had 64 yards on 14 carries (4.6 average) B

WR Another explosive game for the duo. Tyreek had 188 (!) yards on 12 catches. He looks like the best WR in the league. He now leads the NFL with 961 yards in only 8 games! Waddle added 106 and 2 scores. Gesicki added another TD, his 4th of the year on an amazing pass by Tua. Braylon Sanders lost a fumble on his first ever catch... A

OL The Dolphins O-line was great against the pass, Tua was only hurried 4 times on close to 40 pass attempts. The run blocking was good at times. A solid game for the entire offense. A-

LB The defense played awful in the first half and solid in the second half. No pass rush and too many penalties. TE HOckerson had a 58 yard completion... C

DL The line had an up and down game like the rest of the defense. Wilkins and Seiler played well but the lack of pass rush is troubling. C

Secondary The Dolphins decided not toplay Eric Rowe, a big surprise considering he was the back up of injured Starter Brandon Jones. The Lions were running freely in the first half. The entire back end looked lost. Holland is a star no matter what. D+

Special teams They gave up a conversion on a fake punt which wasn't that big of a surprise. Jason Sanders looked solid. C+

Coaching McDaniel needs to fix the penalties issue. They had a bunch of penalties, a decent amount was declined because they gave up better plays...The first half defense was just awful. On the other hand the offfense and Tua in particular looked great. Remember when Sean Payton said Bridgewater was better.... HA HA HA... C+


On the 1st of November, 1970, RB Mercury Morris, gained a Dolphin record of 302 combined yards. He ran 8 times for 89 yards, received 3 balls for 68 yards and returned 6 kicks for 145 yards.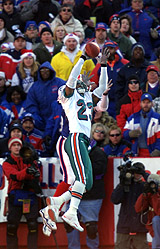 CB Patrick Surtain