Dolphins vs Broncos Summary

9/24/23

Grading the Dolphins

QB WOW! Perfect game by Tua. He connected on his first 17 passes (1 shy of Tannehill's record but Tua had long balls). Tua led the perfect offense to a perfect game.
He was 23 of 26 for 309 yards and 4 TDs with no INTs and a rating of..155.8.
Can you have a better game ?
White played a quarter and finished 2 for 2 for 67 yards and a TD for 158.3 rating. Unreal. A+++!

RB WOW ! The Dolphins broke a 50 (!) year old franchise record and rushed for 350 yards, That's THREE HUNDRED AND FIFTY!
Achane broke all kinds of rookie records, he had 18 carries for 203 yards and 2 TDS (inluding a 67 yard score and a 40 yarder) to add to his 4 receptions for 30 yards and another 2 TDs... 4 total TDs for the rookie.
Mostert added another 4 TDs - 3 rushing to go along his 13 for 82 yard day and 7 receptions for 60 yards and another TD.
Chris Brooks had 9 rushed for 66 yards including a 52 yarder. A+++!

WR Hill caught 9 balls for 157 yards a and a TD. Robbie Chosen had his first action of the season and scored on a 68 yarder from backup QB Mike White... They did all that without the injured Waddle. A+

OL The Dolphins O-line played a great game. Close to perfect! run blocking was superb, pass blocking was great. Just a perfect game. A+

LB The Dolphins played a decent game on defense, they could not get to Wilson but they did hurry him, the score was out of hand so quickly that reserves got valuable playinng time. B

DL They managed to keep the Denver rushing game in check before garbage time. A solid game. B

Secondary Kader Kohou is just playing very well, so is Elliot. They managed to hold Russel Wilson for most of the game. B

Special teams The Dolphins special teams gave up a 99 yard TD on a kickoff. The lone bad play of the day. D

Coaching
WOW !!!! Miami's best offensive performance ever. This is no typo the Dolphins scored 70 points and had 726 yards. That is SEVEN HUNDRED AND TWENTY SIX YARDS! They scored TEN (!) TDs, 5 passing and 5 rushing.
They could have broken the record for points in a game (72) but McDaniel decided to kneel down instead of kicking a FG for the record.
The 70 points is the highest in an NFL game since 1966 and the yardage amount is second only to the 1951 Rams - 72 years ago.
They became the only team in history to have 700+ yards and 70 points. They rushed for 350 yards (franchise record, previous record set 50 years ago) and added 376 passing. BOTH Mostert and Achance had 4 TDs each!
This offense is for real. It was by far the greatest game in Miami regular season history.
McDaniel was just brilliant. PERFECT GAME. A+!!!


On the 1st of November, 1970, RB Mercury Morris, gained a Dolphin record of 302 combined yards. He ran 8 times for 89 yards, received 3 balls for 68 yards and returned 6 kicks for 145 yards.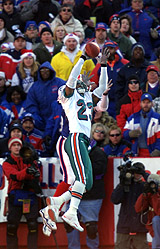 CB Patrick Surtain