Dolphins vs Broncos game Summary

11/22/20

Grading the Dolphins

QB Tua looked awful and was benched after throwing for less that 100 yards and getting sacked 6 times, He looked just off as did the rest of the offense. Fitzpatrick led the team to a would be tieing TD but threw an INT into the endzone on a pass intended to Miami's only real WR - Parker. F

RB The offense was just awful, could not pass or run or protect Tua. F

WR In today's pass happy NFL you can not have only 1 WR. That's where this team really stands. With all do respect, the Dolphins do not have a slot WR, a safety blanket finding room in zone coverages. It can not all be Parker. F

OL Yes, Tua held the ball for too long and some of the 6 sacks are on the never separated WRs but still an awful game. F

LB They did not have any signature plays, no big plays. Solid but not enough to win the game. Could not stop the run at times. C-

DL Ogbah took a step back and the team really missed Wilkins. More than anyone anticipated. Just an average game. C-

Secondary They gave up too much to an awful team. Howard is the best CB in the league when healthy, people should just stop throwing his way. Other than Howard an above average performance. Certainly not the reason for the loss. B

Special teams Ordinary, nothing to see here kind of a day. C+

Coaching Just a bad game, bad decisions, bad execution maybe they were too high on themselves. Thank got the Jets are next. The Jets and Bengals games are now must win games. They will rebound. D+




On the 1st of November, 1970, RB Mercury Morris, gained a Dolphin record of 302 combined yards. He ran 8 times for 89 yards, received 3 balls for 68 yards and returned 6 kicks for 145 yards.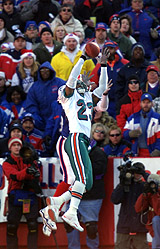 CB Patrick Surtain