Dolphins vs Denver game Summary

12/3/17

Grading the Dolphins

QB Cutler played well most of the game despite his 2 INTs (1 was certainly not his fault). He finished 18 of 31 for 235 yards 2 TDs and 2 INTs. More important he led the team to 25 points on offense and that was enough. B

RB Kenyan Drake had his first 100 game of his career and carried the ball for more than 20 times for the first time since his high school days, he finished with 23 carries for 120 yards including another long TD of 42 yards. B+

WR The Dolphins didn't need much from the WRs. Stills led the way with 5 catches for 98 yards and a TD. Landry also had 5 recptions. TE Julius Thomas scored on a short throw early on in the game. B

OL They allowed 2 sacks and had decent blocking for Drake. It was generally a decent game for the O-line. B-

LB They held the Broncos running game in check most of the day. They still have problems covering TEs but the Broncos are awful and that helps. B

DL They did have some pressure although they only recorded 2 sacks (Philips and Branch). The Broncos rushed for 95 yards. They were OK most of the game and were helped but the fact Denver can not play offense. B

Secondary It sure helps when Trevor Siemian is throwing for the Broncos. He was awful going 19 of 41 for 200 yards and 3 INTs. Xavien Howard had 2 picks - one of which he returned for a score. They were the first two INTs by a Dolphin boundary corner all year. McDonald added a pick on a deflected pass. It's true the Broncos are a bad team but still.. A+

Special teams A blocked punt and an onside kick and a safety on a punt return all in the same game ?! WOW! A+

Coaching The Dolphins lost 5 straight heading into this game but took full advantage of the fact the Broncos are an awful team. They also tried a lot of things and used the situation. Good game. Next week the Patriots come to town and the Dolphins will go back to moving up the draft board but until then... A




On the 1st of November, 1970, RB Mercury Morris, gained a Dolphin record of 302 combined yards. He ran 8 times for 89 yards, received 3 balls for 68 yards and returned 6 kicks for 145 yards.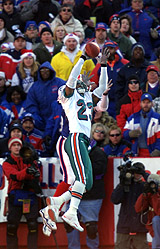 CB Patrick Surtain