Dolphins vs Dallas game Summary

9/22/19

Grading the Dolphins

QB The Dolphins lost 31-6. Rosen wasn't helped by 2 dropped TD passes by WR Preston Williams and DeVante Parker D-

RB The Dolphins lost 31-6. The run game was awful and Drake fumbled in the red zone. F

WR The Dolphins lost 31-6. Two dropped TDs, the WRs really regressed. Grant looks awful. There is a reason Williams went undrafted - he drops balls, caught 4 of 12 targets. DeVante made a super one handed 40 yard catch then drops an easy score.... F

OL The Dolphins played rookie LG Dieter at LT, someone nobody knows at LG, a center rater by PFF 30 of 32, a backup undrafted RG playing in his first ever game and a street free agent at RT. Come to think of it what did we expect ? Really... F

LB The Dolphins lost 31-6. F

DL The Dolphins lost 31-6. Dak Prescott had days to pass. Zero pass rush. F-

Secondary It was bound to happen sometime, CB Xavier Howard had a bad game and he is the only legit play maker on the team. F

Special teams Even Sanders was off, missing a 47 yarder. F

Coaching The Dolphins were not prepared, the decisions were awful (not challenging the Preston Williams drop, not going for 4th and goal). F-!!!




On the 1st of November, 1970, RB Mercury Morris, gained a Dolphin record of 302 combined yards. He ran 8 times for 89 yards, received 3 balls for 68 yards and returned 6 kicks for 145 yards.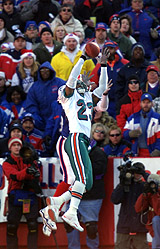 CB Patrick Surtain