Dolphins vs Cleveland Summary

11/13/22

Grading the Dolphins

QB Another game and another close to perfect game by Tua. Brilliant throws spreading the football. He was 25 of 32 for 285 yards, 3 TDs and no INTs for a rating of 135 - Perfect. He's is playing like an MVP candidate. A+

RB The Dolphins ran the ball very very well. The addition of Wilson was huge. Last week he went for 51 and scored on a recpetion and this week he ran 17 times for 119 yards (7.0 ave.) and a score, he looks like a great great trade. Mosteret added 65 yards on only 8 carries (8.1 ave.) and a TD . Huge numbers for running game 33 carries for 195 yards and 2 TD. A

WR A quiet game for Tyreek (5 for 44, TD) and Waddle (4 for 66) but Tua spread the ball. Sherfield looks like a very good number 3 WR (4 for 63 a nd a TD). B

OL The Dolphins O-line was great. The run blocking eas excellent and the pass blocking was also very good. T-Stead is the real deal. Browns star DE Myles Garret's name was only called once - for a penalty against him... A+

LB The defense played well. It took some time as usual but they got better as the game went on. Baker had a few very good plays. A good effort all around. B

DL The run stopping was good and Nick Chubb only had one good run, a 33 yarder. A front line of Wilkins, Philips and Chubb looks soild. B

Secondary The Dolphins managed to contain the Browns for most of the game although still no INTs. A solid game for the secondary although they did miss a few tackles in the Chubb run. B

Special teams They missed 2 extra points - that's bad, really bad and in another scenario could be costly. The entire unit this year is under performing. F

Coaching McDaniel called another great game. What he did to the offense is coach of the year worthy. Just a great game that could have easily been turned into a trap game. Now 7-3 going into the bye and the Texans before the schedule becomes more challenging. A


On the 1st of November, 1970, RB Mercury Morris, gained a Dolphin record of 302 combined yards. He ran 8 times for 89 yards, received 3 balls for 68 yards and returned 6 kicks for 145 yards.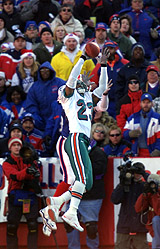 CB Patrick Surtain