Dolphins vs Cleveland Summary

11/24/19

Grading the Dolphins

QB The Dolphins lost, thank god. After 2 wins it looks too late but... Fitzpatrick did not have a good game throwing 2 INTs (21 of 39 for 214 yards and 2 TDs). He laso rushed 5 times for 45 yards and a TD. C-

RB The Dolphins can not run the ball. Ballage is just awful but he has no blocking as well. 7 carries for 13 yards ? Isn't it time for Laird ?? F

WR Parker again had a good game with 91 yards continuing his hot streak (he had 135 yards last week). Gesicki caught his first career TD. B-

OL The Dolphins O-line is not very good, and that's putting it lightly. Davenport is not an NFL player, Webb is probably better... There is not one O-lineman to build on. I hope they will get better with time going into next season. D

LB 41 points to the Browns ? Landry torched the Dolphins but it wasn't only him, they just did not play well as a team. D-

DL The Dolphins D-line is bad. No pass rush again. D-

Secondary 148 yards to Landry ? we know Landry better than the media, he is not that good... D-

Special teams The least of our problems B

Coaching The Dolphins got back to losing but it appears it's too little too late. They can use the next 5 games to evaluate their roster although they don't look kike they are interested in doing so. b> D




On the 1st of November, 1970, RB Mercury Morris, gained a Dolphin record of 302 combined yards. He ran 8 times for 89 yards, received 3 balls for 68 yards and returned 6 kicks for 145 yards.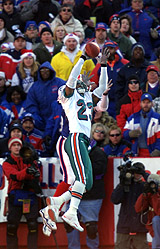 CB Patrick Surtain