Dolphins vs Bengals Summary

9/29/22

Grading the Dolphins

QB Tua started great with some huge throws. He did have a pick on a long throw which you can look it as basically a punt. he is just playing very very well all season. The injury was scary and we can only hope he gets better soon, he looks like a great guy that everybody likes. Bridgewater plyed well considering the circumsatances. He did have that awful INT that sealed the game and the team could not get in the endzone after having a 1st and goal inside the 5 but showed why he was a very good signing as a back up. Special Grade: We love Tua grade

RB The Dolphins running is just not performing this year, not yet. Edmonds droped a sure TD on the first drive on a perfectly thrown pass by Tua but scored later in a shovel pass from Teddy. They really should improve fast now that Tua is injured. Mostert finished with 15 carries for 69 yards. Better but still the Dolphins will need more. C+

WR Hill had 10 recptions for 160 yards including a 64 yarder from Teddy. He was basically the entire offense and he now leads the league with 477 yards in 4 games. Hill has 2 150+ yard games already this year. What an upgrade... Sherfield had 4 receptions for 55 yards as Waddle has only 2 receptions all game for 39 yards. B

OL The Dolphins O-line is playing better than last year. The pass blocking looks much improved but there is room for imporvement in the run blocking. They are very thin as far as depth. Especailly at tackle. Armstead continues to play hurt (toe) and let's hope the mini bye helps him get better because he is the most important player on the line. Austin Jackson will be able to come off the IR list after the Jets game to provide additional depth at tackle. C+

LB The defense played just 4 days after playing 90 plays against the Bills. They did OK as far as run stopping but struggled to get to Burrow (only 1 sack). It just wasn't their best game. C

DL Ogbah, Wilkins, Davis and Zeiler are plying well against the run but are not generating enough pass rush. It continued again against a bad Bengal O-line. Wilkins is playing well all year. C

Secondary Burrow had a rating of over 115 and went 20/31 287 yards and 2 scores. Howard left the game with an injury in the 3rd and it showed. The Dolphins defense really need him and Byron Jones back because their entire defense is based on good secondary play. Rowe is quietky getting more snaps for Jones which is not a good thing. Jones can improve his passing game. C-

Special teams Third week in a row of bad play. It's not a one time thing anymore. They missed an extra point and had a FG blocked 4 days after the but-punt and 11 days after the 103 yard kickoff return they gave up in theRavens game. F

Coaching McDaniel's first loss was a hard fough game in which the team was in it in the 4th quarter on a short week on the road with their backup QB after the Tua injry. McDaniel is doing a great job and this loss doesn't change anything. He is just a great find for this team. Maybe they should have been more agressive inside the 5 with Teddy in there but that's just impossiblr to know in real time. B


On the 1st of November, 1970, RB Mercury Morris, gained a Dolphin record of 302 combined yards. He ran 8 times for 89 yards, received 3 balls for 68 yards and returned 6 kicks for 145 yards.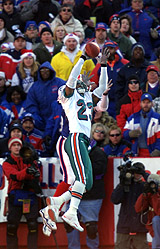 CB Patrick Surtain