Dolphins vs Cincinnati Summary

12/22/19

Grading the Dolphins

QB The Dolphins started great and jumped to a 23 point lead. Fitzpatrick looked great against the worst team in the NFL. He finished 31 of 52 for 419 yards, 4 TDs (one to DT Wilkins)and 1 INT. A

RB The Dolphins played better than most weeks. It helpes to play the Bengals. Laird carried 8 times for just 17 yards, Gaskin 55 yards on 16 carries (3.4 average) and a TD. C

WR Devante Parker was great again with 5 catches for 111 yards and a TD. Gesicki had a great game as well 6 for 82 yards and 2 TDs. Wilson looked like his old self with 7 catches for 79 yards. Ford also played well (5 for 68). Playing against the Bengals really realy helps. A

OL The Dolphins O-line had a decent game. Not too much pressure on the QB. If they could only play the Bengals every week... C

LB They collpased in the 4th quarter against the Bengals. 35 points to CInacinnati... C+

DL The Dolphins best D-lineman was newly signed Zach Siegler (7 tackles, sack, TFL). It also says a alot about the rest of them. The Dolphins need to add at least 3 players in the off season including 2 starters. It's that bad. C-

Secondary Andy Dalton threw for 396 yards 4 TDs without an INT. They collapsed in the 4th quarter. Just a bad game. D-

Special teamsJust an ordinary day... C

Coaching A loss could have really really helped. They could have had the 2nd pick and the rights to DE Chase Young which this team desperately needs. But they won... C




On the 1st of November, 1970, RB Mercury Morris, gained a Dolphin record of 302 combined yards. He ran 8 times for 89 yards, received 3 balls for 68 yards and returned 6 kicks for 145 yards.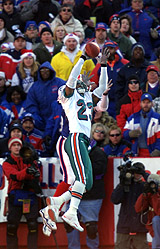 CB Patrick Surtain