Dolphins vs Bengals Summary

10/7/18

Grading the Dolphins

QB Tannehill was bad. He had no protection but losing after a 17-0 lead in the 2nd half and scoring 10 points for Miami and 14 for the Bengals is just not going to win a game in the NFL. 20 for 35 for 185 yards, 1 TD and 2 INTs. D-

RB Gore played well when given the chance and Drake had a few nice plays. B-

WR WRs were not very good, couldn't get open downfield in the half second the O-line gave RT. D-

OL The OL was really awful. AWFUL. When Tunsil got injured it was all over for Miami. Both guards could not block Atkins and James also played bad. F!!!

LB 3 good quarters, Nice game by Baker but they can't help when the Cincy D scores 14. B-

DL The DL was not very good. Charles Harris can not set the edge. A lot of pressure because of the blitzes but no sacks. C-

Secondary The secondary was solid for 3 quarters and were out of air at the end. You can't really ask for anything more. A decent game. C

Special teams Grant had a 70 yard TD punt return TD. Taylor blocked a punt - that's 10 points. just as much as the Dolphin defense. A+

Coaching Up 17-3, with momentum shifting they gave Gore 2 shots. He got 9 yards, why pass on 3rd and 1 ? RT threw long... The collpase from there on out was AWFUL. JUST AWFUL. It didn't help that they didn't activate T Zach Sterup because Young was awful after Tunsil went down. F!




On the 1st of November, 1970, RB Mercury Morris, gained a Dolphin record of 302 combined yards. He ran 8 times for 89 yards, received 3 balls for 68 yards and returned 6 kicks for 145 yards.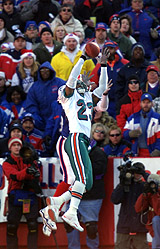 CB Patrick Surtain