Dolphins vs Chicago Summary

11/6/22

Grading the Dolphins

QB Another game and another close to perfect game by Tua. He was 21 of 30 for 302 yards, 3 TDs and no INTs for a rating of 135.7. Close to perfect. He did miss 2 crucial throws late, a short throw on 4th down and a long ball to a wide open Waddle. Both throws could have seasled the game for the Dolphins instead on relying on the under performing defense. A+

RB The Dolphins ran the ball more than usual and it does seem that new addition Jeff Wilson (9 for 51) is a big upgrade over Edmonds. Wilson had a nice 28 yard run. Mostert had 9 carries for only 26 yards. B

WR Another explosive game for the duo. Tyreek had 143 (!) yards on 7 catches. He went over 1000 for the season. He now leads the NFL with over 1100 yards. Waddle added 85 yards. A

OL The Dolphins O-line was solid all game. Tua had time to throw most of the time and new LG Robert Jones held his own most of the day. B

LB The defense did not play well. The LB missed tackles and Allowed Firelds to rush for a QB NFL record of 178 yards including a long run. They couldn't generate an effective pass rush as well. D+

DL The run stopping was just bad most of the day and the pass rush wasn't as good as it should have been. D+

Secondary The Dolphins managed to contain the Bears and were alittle aided by the refs at the end of the game. The seondary certainly misses Brandon Jones. C

Special teams They had and up and down game, on one hand a great play with the punt block but on the other hand some bad plays. B-

Coaching McDaniel needs to fix the defense. Especially the run defense against mobile QBs. They could not handle Lamar Jackson and they certainly could not handle Justin Fields. It took a close to perfect game by the passing offense to win. A road win even against the Bears is impressive. B+


On the 1st of November, 1970, RB Mercury Morris, gained a Dolphin record of 302 combined yards. He ran 8 times for 89 yards, received 3 balls for 68 yards and returned 6 kicks for 145 yards.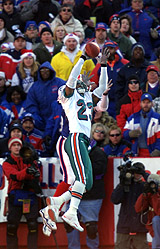 CB Patrick Surtain