Dolphins vs Bears Summary

10/14/18

Grading the Dolphins

QB Osweiler got the start an hour before the game. He threw a lot of short passes, 2 of which Wilson turned into big TDs. He played well aside from 2 INTs, one was a horrible throw that led to 7 points the other way. He finished the game 28 of 44 for 380 yards, 3 TDs and 2 INTs. He was helped by a good ground attack and a very good showing by the O-line. A very solid game for the backup QB. B+

RB Gore played an excellent game. He ran for 101 yards on 15 carries (6.7 average). Drake also had a solid game up to the fumble at the goal line during OT. He finished the game with 13 carries for 57 yards (4.4 average) and the fumble. He aslo caught 4 balls for 21 yards. A-

WR Albert Wilson ! WOW! He cuaght 6 catches for 155 yards and 2 TDs including a 75 yarder and a 43 yarder when the Dolphins needed it the most. Parker did not catch a pass and Stills was quiet all day (caught a 2 point conversion). Grant played a decent game. TE Nick OwLeary really played well with some nice blocks and 4 catches for 49 yards and a TD. A+

OL The Bears entered the game second in the NFL with 18 sacks in only 4 games. That's 4.5 sacks per game. The Dolphins gave up ZERO sacks and they blocked really well for the run game. A clean game for the O-line (it helps to have Tunsil back...). They rebounded from last week in an excellent way. A+

LB They had their share of mistakes but they also had some huge plays with fumbles and recovered fumbles. Kiko is playing like a pro bowler. The Ohio LBs did not have their best game. B

DL The DL was OK but more pass rush was needed. They did deliver when needed to. Vincent Taylor is having a very good year. Impact player. B

Secondary The Bears had WRs running free but missed them. McTyey could not handle Taylor Gabriel and he was benched in favour of Tankersley. The 2nd CB spot is giving the Dolphins problems but McCain should be back next week. Reshard was his usual pro bowl self and McDonald had a great INT in the endzone. B

Special teams The Bears did not let Grant return anything, they have obviously watched his tape. Parkey missed a game winning 53 yarder when Dolphins kicker Joseph won it on a 47 yarder (and also had a 50 yarder earlier). A

Coaching Wow. Did not give up down 21-13 with their backup QB and the Bears inside the Dolphins 5. They sensed Wilson was hot and fed him the ball. A great job winning against a good team without Tannehil, Derby, McCain and Wake to add to they long list of injured players. They needed this win. A




On the 1st of November, 1970, RB Mercury Morris, gained a Dolphin record of 302 combined yards. He ran 8 times for 89 yards, received 3 balls for 68 yards and returned 6 kicks for 145 yards.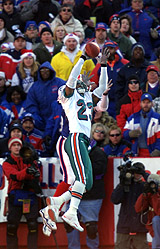 CB Patrick Surtain