Dolphins vs Panthers Summary

10/15/23

Grading the Dolphins

QB Tua had a good game going 21 of 31 for 262 yards, 3 TDs and no INTs and a 126 point rating. He had a beautiful 41 yard TD to Tyreek. A

RB Mostert carried the running game with the absence of Achane and looked excellent, he had 17 cariies for 115 yards (including a 49 yard run))and 3 total TD. He pushed his season total to a league leading 11 TDs. A

WR Hill caught 6 balls for 163 yards including a 41 yard TD and another 47 yard play. He was unstoppable at times. Waddle added 7 catches for 51 yards and a TD. A

OL The Dolphins O-line played very well against a decent D-line. The run blocking was solid and so was the pass blocking. Great work missing T-Stead and Williams. B+

LB The Dolphins played a nice game on defense. They started slow and gave up 2 TDs but tightened the defense and managed to keep the Panthers from scoring on offense. B+

DL Seiler and Wilkins had nice games as the Dolphins D gave up only 14 points. B+

Secondary The Dolphins secondary started shky and Thielen had a good game but as the game progressed the secondary played better. Playing against a rookie QB helps... They have a very big test next week going against a super WR duo. B+

Special teams The Dolphins special teams had a great play stoping the Panthers fake punt, it totally turned the momentum of the game. Great play by LB Cameron Goode and DB Elijah Campbell. A

Coaching
Started shaky but then the Dolphins talent took over and won easily. The Dolphins are plying great despite the injuries with a tall task next week against the NFC champion and a top 3 team in the league this year. A-


On the 1st of November, 1970, RB Mercury Morris, gained a Dolphin record of 302 combined yards. He ran 8 times for 89 yards, received 3 balls for 68 yards and returned 6 kicks for 145 yards.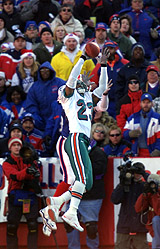 CB Patrick Surtain