Dolphins vs Panthers Summary

28/11/21

Grading the Dolphins

QB Tua played great. He agains finished with over 80% completion rate, this time 87%. He threw the ball well and on time. After getting a 64 yarder against the Ravens and a 65 against the Jets he had a 57 yarder to Waddle. His stat line was 27 of 31 for 230 yards and a TD. A very good game. A

RB Philip Lindsay played after 2 practiced and ran 12 times for 42 yards. Gaskin led the team with 49 on 16 rushes including 2 TDs on the wildcat. A-

WR Waddle had a carrer day with 137 yards on 9 receptions (10 targets) and a TD including a 57 catch and run play on a perfectly placed throw by Tua. The rest of the WRs did not do much. A-

OL The Dolphins O-line gave up 2 sacks but that's because Tua (and Lindsay on the long pass) bailed them out. They had bad plays and penalties and did not look very good. Hunt was the only decent one. C-

LB Philips had 3 sacks continuing his surge. He looks like a good pick and his potntial is very high. He now has 6.5 on the season. They all had a dominating game. A

DL Ogbah is a beast and the rest of the line is also playing well. Ogbah and Wilkins also added sacks. A

Secondary Holland is a star. Holland, X and Needham all had INTs. They totally dominated Cam Newton. They did have that one bust when the Panthers got a huge gain when Howard let his guy run by him with no safety help. Brandon Jones did not play and Eric Rowe took his place and played well. A-

Special teams Jason Sanders was OK altough he did miss an extra point. The Dolphins blocked a punt and scored. That alone deserves an A. A

Coaching Wow, the Dolphins did play a very good game and totally dominated in all 3 phases of the game. A very good job indeed. They now face the Giants in a winnable and must-win game for them. A


On the 1st of November, 1970, RB Mercury Morris, gained a Dolphin record of 302 combined yards. He ran 8 times for 89 yards, received 3 balls for 68 yards and returned 6 kicks for 145 yards.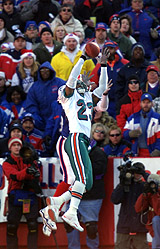 CB Patrick Surtain