Dolphins vs Buffalo road playoff Summary

1/15/23

Grading the Dolphins

QB Tua was out. Teddy was out and the Dolphins had to play a 3rd string 7th round rookie in the playoffs on the road. They played much better than expected and Thompson did his best finishing 18 of 45 for 220 yards 2 INTS and a TD. Can't help but think that with Tua the Dolphins would have won. Buffalo is not playing as good as before. C-

RB The Dolphins missed the injured Mosteret and they could not really run the ball. Wilso rushed 10 times for 23 yards. Ouuch. D+

WR Hill led the way with 7 receptions for 69 yards and Waddle added 3 more for 44 yards. Ahmed playing for the injured Mosteret added 45 yards on 4 receptions. C

OL The Dolphins O-line was decent considering the injuries and the fact Skylar Thompson was playing QB. It was and up and down year for this unit that played better with the two additions to the line but they still need to find an answer at RT. C-

LB The Dolphins played well on defense. They gave up 34 points but in general played well in those circumstances. The Bills were pretty much held in check. As a team the Dolphins had 6 sacks. B

DL Zach Seiler was awsomw with 2 sacks and a recovered defensive TD. Wilkins also played well and earned his much anticipated extension. The Dolphins as a unit played a decent game even though they gave up 34 points. B+

Secondary Howard and Holland had picks and they managed to keep Allen in check for some parts of the game but he ended up with 352 yards and 3 TDs to go along with the 2 picks. C

Special teams The Dolphins special teams are not very special but it did not show in this game. Sanders did OK and so did the other units. C+

Coaching The loss was expected and they played much better than anyone could have guessed. They actually led in the second half and almost pulled the upset. Can't help but think that with Tua the Dolphins win this game. B


On the 1st of November, 1970, RB Mercury Morris, gained a Dolphin record of 302 combined yards. He ran 8 times for 89 yards, received 3 balls for 68 yards and returned 6 kicks for 145 yards.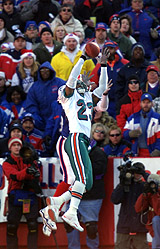 CB Patrick Surtain