Dolphins vs Bills Summary

9/25/22

Grading the Dolphins

QB Tua followed his best career game with another solid outing, He led the team in a hard fought game. The team managed to have 3 scoring TDs and that proved to be enough. In the one series he sat down because of his injury you could see the drop off to Bridgewater. He had only 1 bad throw that the Bills droped. He finished 13 of 18 for 186 yards and a TD including a perfectly placed 45 yard bomb to Waddle on 3rd and 22. A-

RB The Dolphins running game looked lost. They just could not run the ball despite the two rushing TD but as a team they could not get the run game going. Mostert had 8 carries for 11 yards, Edmonds 6 for 21 - ouch. Ingold droped a pefect long pass by Tua to start the game. D

WR Hill had only 2 receptions for 33 yards against 2nd and 3rd string DBs but he did open up things for others including Waddle (4 for 102). The Dolphins did not run a lot pf plays (only 39 to the Bills 90!) but did just enough. Cracraft caught a TD, he has 2 recptions for the season both for scores. B-

OL The Dolphins O-line is playing much better than last year. The additions of Armstead (played while injured) and Connor were just great additions, both of them playing exteremly well. Hunt was always a decent player and Eichenberg is playing better. Greg Little is not giving up his RT spot this easily, he played well even though he was injured. Why didn't the previous regime give him a chance is just weird. B+

LB The Bills ran 90 plays! Josh Allen is just a great player but the Dolpins did just enough to get by. Melvin Ingram had 2 sacks and also recovered the strip sack by Holland. He has become a solid all around player, not just a pass rusher as we all thought he would be. B+

DL Ogbah, Wilkins, Jenkins and Zeiler played and rushed the passer very well. Allen is hard to bring down but they were in his face all day long. The Buffalo run game was also pretty much in check. A-

Secondary Allen had 400 yards on 42 comletions but did they prevent the big play, Had Diggs covered all day and did enough when it mattered the most. Holland is just a STAR. He had double digit tackles and 1.5 sacks including the strip. B+

Special teams Ouch. Second week in a row, second bad play that almost cost the game. Punting from the 1 is not ideal to say the least but punting into the behind of the guy next to the punter for a safety is just bad. They are also not seem interested in returning kicks. At least the free kick following the safety was great and gave the Bills bad field position. D+

Coaching Third win as a head coach for McDaniel... He is 3-0 to start his career. The team looked prepared and he doesn't look like a rookie coach at all. If they continue like this he will enter the conversation for coach of the year. They have a very short week plying on the road Thursday against the AFC champions. Let's beleive for a change. A


On the 1st of November, 1970, RB Mercury Morris, gained a Dolphin record of 302 combined yards. He ran 8 times for 89 yards, received 3 balls for 68 yards and returned 6 kicks for 145 yards.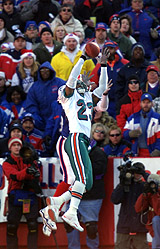 CB Patrick Surtain