Dolphins vs Buffalo home Summary

9/19/21

Grading the Dolphins

QB Tua was injured and left tha game after going 1 of 4 with 2 sacks... Brisett wasn't any better (4 sacks) and a million hurries. Just awful game all around. The Dolphins have no offense. F

RB The Dolphins RB can not pass block and could not run tha ball. That pretty much sums up the performance. F

WR Really ? The so called deep unit... The Dolphins had a sequence where Devante Parker (so called WR1) dropped a TD followed by an easy drop by Wilson (wasn't his only drop of the day) and then followed by an actual catch by Grant that looked good for half a second before he fumbled the ball. Waddle muffed a punt and Preston Williams also dropped the ball. The only WR that did not drop a pass was Hollins and he wasn't targeted on the dday, I guess that's the reason... F!

OL The Dolphins spent recently a 1st, 2 2nds a 3rd and a 4th round pick and have aline that could nit block an unranked college team. Tua got killed (he will miss time) in his 6 attempts (2 sacks and an injury), Brisset was sacked 4 times and hit at least 15 times. It was awful. One of the worst if not the worst pass blocking performance in decades... They just have to change something. Jackson did not look like a first round pick to say the least. F- !!!

LB The 35 points don't tell the story. The Dolphins have a good defense, but they can't play alone. Baker did not start the season well... Philips was supposed to be the answer for the pass rushing problem but he looks like a ... (too early for the label) D

DL The Dolphins did not get enough pressure. Actually, the pass rush is a problem, will remain a problem because they do not have a pass rusher outside of Ogbah. Philips again looked like an 18 pick miss (Jackson was also the 18th pick, not a good spot for Grier...). The run stopping wasn't much better. D-

Secondary This is, by far, the best unit on the team. Diggs will make plays and despite the 35 points scored they did a decent job. Can't do it alone. X is, by far, the best player on the team and Jones is also a great player. Noah was inactive again. The Dolphins 3 2020 first rounders look like... C

Special teams Even the kick coverage team wasn;t that good... D

Coaching What an awful display. To sum it up, the team was just unprepared. They looked over matched, could not block anybody and did not know who was rushing and who they should pick up. Just awful. As for the front office - Is it too early to talk about the 2020 most questionable draft call ? it's not Tua over Herbert. The needed a LT. Everybody knew that. The dtaft had 4 good ones and the Dolphins owned picks 18 AND 26, They seriously ovedrafted Jackson and the inactive Noah. The last of the 4 consesnsus top 4 LTs, Tristan Wirfs went 13th. He hasn't allowed a sack since week 5 of his rookie season (and none before that week 5 game, more than 700 snaps). We saw the dolphins pass blocking... What were they thinking? This team needs good players not qauntity... F- !!!




On the 1st of November, 1970, RB Mercury Morris, gained a Dolphin record of 302 combined yards. He ran 8 times for 89 yards, received 3 balls for 68 yards and returned 6 kicks for 145 yards.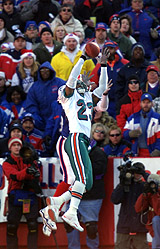 CB Patrick Surtain