Dolphins vs Buffalo home game Summary

9/20/20

Grading the Dolphins

QB Ryan Fitzpatrick rebounded from the bad start of the season going for 328 yards on 31 of 47 with 2 TDs and a rating of over 100. He did find Gesicki 8 times for 130 yards but when the Dolphins could not punch it in form the 1 they reallt lost the game. He did have the team ahead in the 4th quarter. B+

RB The Dolphins split carries between Gaskin and Breida. Howard mysteriously looks to be the odd man out serving as the short yardage back.. Gaskin and Breida each had 7 rushes for 46 and 37 yards. They played a decent game, certainly better than week 1. B-

WR A huge game for Gesicki with 130 yards. He looks much improved and is by far the team's second best option in the passing game. Ford (7 for 76 yards) and Devante (5 for 53 yards) had solid games. B

OL The Dolphins O-line looks much much improved from last year. Kindley and Jackson will get even better. This is a much improved unit. B

LB They could not stop the run or the pass. Josh Allen had 415 (!) passing yards and Devin Singeltary had 5.6 yards per carry... D-

DL Pass rush was non existent. 415 passing yards to Josh Allen ? really ?? D-

Secondary Did I mention 415 passing yards to Josh Allen ??? The secondary with not one but TWO players with 17 million a year contracts ? F

Special teams The Dolphins have a decent special teams unit. B

Coaching Really ? Leaving Stefon Diggs on a rookie alone ? What did they think will happen ? What happened to Jordan Howard? F




On the 1st of November, 1970, RB Mercury Morris, gained a Dolphin record of 302 combined yards. He ran 8 times for 89 yards, received 3 balls for 68 yards and returned 6 kicks for 145 yards.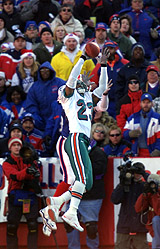 CB Patrick Surtain