Dolphins vs Bills home Summary

11/17/19

Grading the Dolphins

QB The Dolphins lost, thank god. Fitzpatrick did not have time to throw but had some nice throws... He finished with his first 300 yard game of the season (32/45, 323 yards) but with no TDs. B

RB The Dolphins ca not run the ball. Ballage is awful but he has no blocking as well. He had 9 carries for 9 yards and a TD. really. F

WR Parker (7 for 135 yards) led the way again. Other than that a quiet game. (Hurns lost a fumble) B

OL The Dolphins O-line was awful, bad pass protection and no run blocking as well... D-

LB 37 points to the Bills ? players running well into the secondary... not good. Missed McMillan. D-

DL The Dolphins D-line is bad. No pass rush again, no run stopping as well. D-

Secondary Some good some bad from this ever changing unit. no takeaways this time. D

Special teamsJakeem Grant had a 101 yard kick return for a score and another long return, his speed was out of this world. Sanders kicked and recovered an onside kick. A+

Coaching The Dolphins got back to losing but it appears it's too littler too late as the Redskins and Bengals have the driver seat for the top 2 picks... Bad game by the way. C-




On the 1st of November, 1970, RB Mercury Morris, gained a Dolphin record of 302 combined yards. He ran 8 times for 89 yards, received 3 balls for 68 yards and returned 6 kicks for 145 yards.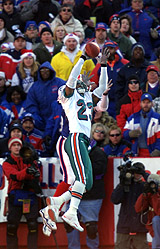 CB Patrick Surtain