Dolphins vs Bills home game Summary

12/2/18

Grading the Dolphins

QB Tannehill was OK, especailly when he had time to throw the ball, which was rare. He got beat and pushed around all day because of Miami's awful O-line (everybody not name Tunsil, of course). He under threw Stills for the INT but other than that no major mistakes. I hope he feels fine after the beating he took. He was 16 of 24 for only 137 yards with 3 TDs and 1 INT for a rating of 103.6. C+

RB Gore (8 for 21) and Drake (7 for 31 and a TD reception) were OK when they had blocking but they usually did not. It's hard to run with no blocking inside. Drake had a 20 yard run. As a team the Dolphins rushed for only 60 yards. Bills QB Josh Allen rushed for 135... D

WR Stills (4 receptions 37 yards) and Parker (4 for 43 yards) had very nice TDs but other than that they were all pretty quiet. Newly signed WR Butler had 4 catches for 25 yards. All TEs combined had 1 catch for 9 yards (O'Leary) C-

OL Really ? OI lost count was that 2 sacks and 2 penaltied on Davis ? Larsen wasn't very good. The entire middle of the line was bad. Tunsil can not play all 5 positions. Tannehill had no time on virtually every drive (when he did he connected) F (Tunsil not included)

LB Kiko Alonso is going to have nightmares about Josh Allen. If only he knew how to throw... Allen had 9 rushes for 135 yards and he put moved on Kiko all day. How in the world did they almost lose against this awful Bills team ? D-

DL Aside for Quinn's sack strip the pass rush was invisible. Allen had all day to throw (or run). The Dolphins should be panicking about their so called D-line. F

Secondary There were a few plays when the Bills were WWWIIIDDEEEE open including on the last play where noonw was within 20 yards of Charles Clay. Xavier is a great corner (another 2 INT day) but other than X this secondary is performing worse than their talent indicates. Thank god Allen is inaccurate. D+

Special teams The best unit on the team by a mile. A partially blocked punt, a nice pin down inside the 5, solid kicking, the usual Rizi unit. Walt Aikens is having a superb year on special teams B+

Coaching What?!?! How could they almost lose this game ? They were one Charles Clay drop from losing. The offense is awful and they can not stop the run. Thank god for Xavien Howard. Passing on 3rd and long sometimes works, I guess. If they play like this against Brady a 30 point spread sounds about right. D-




On the 1st of November, 1970, RB Mercury Morris, gained a Dolphin record of 302 combined yards. He ran 8 times for 89 yards, received 3 balls for 68 yards and returned 6 kicks for 145 yards.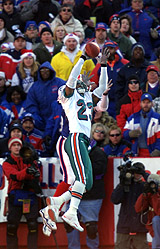 CB Patrick Surtain