Dolphins vs Bills home game Summary

12/31/17

Grading the Dolphins

QB Fales played most of the game and finished 29 of 42 for 265 yards, 1 TD and 1 INT. Most of the yardage was in garbage time. He had less than 100 at the half. D

RB Kenyan Drake played OK until he was ejected from the game. He finished the game with 14 rushes for 75 yards. B-

WR The Dolphins WRs were average. Landry had a decent game although he did drop a pass and was ejected for a stupid penalty. He finished the season with 112 receptions (franchise record) to lead the NFL. Stills and Parker were invisible. C-

OL The run blocking was OK and the pass blocking was OK considering the circumstances. The Dolphins will again enter next season with question marks at the O-line. C-

LB The Dolphins can not cover TEs, we know that. The run stopping was mediocre at best. D

DL There was not much pressure on Taylor. Wake had 1.5 sacks to finish the season with 10.5 sacks. C

Secondary Taylor looked like a pro bowler as usual against the Dolphins. The Bills seemed always to convert third and long. D

Special teams The Dolphins managed to recover the 4th on side kick of the season. Other than that, it was an average game in a below average season. C+

Coaching The Dolphins played poorly as they did all year. They did not seem to want to win. It's a good thing they gave chances to young players that will help in their evaluations for next year. D




On the 1st of November, 1970, RB Mercury Morris, gained a Dolphin record of 302 combined yards. He ran 8 times for 89 yards, received 3 balls for 68 yards and returned 6 kicks for 145 yards.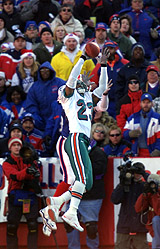 CB Patrick Surtain