Dolphins vs Ravens Summary

9/18/22

Grading the Dolphins

QB Best game ever for Tua. 36 of 50 for 469 yards, 6 TDs ans 2 INTs and a comeback win. WOW! A+!

RB The Dolphins running game looked better. Mostert looked fast and very good. Edmonds had a huge 28 yard gain at the end. B

WR Hill had 11 for 190 and two long TDs. Waddle added 11 for another 171 yards and 2 TDs including the game winner. He also had a 59 yard catch and run. Gesicki also had a decent game and a score. A+

OL The Dolphins O-line is still trying to figure it out but it looked much better both in pass protection and the runnnig game. Greg Little played RT and looked fine. A-

LB The Defense as a hole did not play very well in the first half but it was OK when it mattered. C

DL Ogbah, Wilkins, Davis and Zeiler hare a strong unit even though they had a few breakdowns.They were very tough in short yardage and the Ravens could not run by players not named Lamar Jackson. Pass rush could be better. B-

Secondary Not a very good game even especailly in the first half. Even X gave up a 75 yard TD. Holland and Jones had a quiet game and they could not get a turover. D+

Special teams Giving up a 103 yard kickoff TD on the road is a recepie for failure. Not good. D-

Coaching Second win as a head coach for McDaniel was fun. He was prepared, aggressive and he never lost hope. Great. Just great. A


On the 1st of November, 1970, RB Mercury Morris, gained a Dolphin record of 302 combined yards. He ran 8 times for 89 yards, received 3 balls for 68 yards and returned 6 kicks for 145 yards.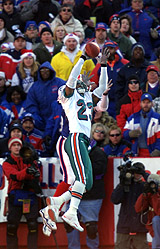 CB Patrick Surtain