Dolphins vs NY Jets Summary

21/11/21

Grading the Dolphins

QB Tua is playing ,uch better and he led an efficient game finishing 27 of 33 for 273 2 TDs and 1 INT. He led the team to a win and it really felt that Miami is way better than the Jets. A road division win is never easy. He is improving. He did complete more than 80% of his passes including a 65 yard TD. B+

RB The Dolphins run game was better than usual which isn't saying much. Gaskin ran 23 times for 89 yards, best game of the season for him. B

WR Waddle again led the team with 8 receptions for 65 yards. Hollins had that great long TD of 65 yards. A decent game against a bad team. B

OL The Dolphins O-line is just not very good no matter who they play. Tua doesn't get sacked much but that's because he throws the ball quickly. The run blocking was better. B-

LB Philips had another sack and is coming on strong lately. They played a decent game limiting the Jets on most of the day. B

DL They played a decent game. Both Ogbah and Wilkins are playing good football and Davis really stabitalized the unit. Seiler is also having a solid year against the run. B

Secondary Holland looks like a star in the making and he led the team in tackles. Brandon Jones also had a sack. The Dolphins seem set with the top 4, by far, the best unit on the team. B

Special teams Jason Sanders was is having a down season and missed another kick. C-

Coaching They won their 3rd straight game and a division road game is never easy. They have the Panthers, Giants and Jets - we'll see. B


On the 1st of November, 1970, RB Mercury Morris, gained a Dolphin record of 302 combined yards. He ran 8 times for 89 yards, received 3 balls for 68 yards and returned 6 kicks for 145 yards.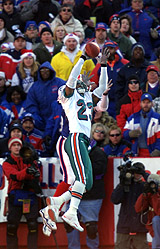 CB Patrick Surtain