Dolphins vs Jets road game Summary

11/29/20

Grading the Dolphins

QB Tua missed the game with the thumb injury. It's a good thing the Dolphins have the best back up QB in the league. Fitzpatrick was solid, unspectacular but solid and confident. It helps to play the Jets... B

RB The offense still don't have a dependant RB. The Jets are awful so that wasn't a problem but it will be soon. Maybe Gaskin returns next week but I don't think it will help. Washington actually played well to close out the game. C

WR Parker was great catching 8 passes for 119 yards, he clearly feels more comfortable with Fitzpatrick. The problem is that he really is Miami's only real starting caliber WR. Gesicki found the endzone again. B

OL The Jets are awful but still Miami is having a hard time blocking. Kindley is injured so there isn't much depth also. C+

LB The run defense wasn't that good, they gave up more than 70 yards rushing to 38 old year old Frank Gore... Other than that they were OK. B

DL As mentioned 70+ rushing yards to a 38 year old RB is not good, there wasn't that much pressure either. A decent game against the worst team in the NFL. B

Secondary So Darnold isn't that good. Trevor LAwrence is on his way... The fact people are still trying to pass against Howard is just absurd. He now has 7 INTs to lead the league. Needham also had a pick. A

Special teams Jason Sanders connected on his 2 long FGs and he is automatic from ... well almost everywhere. A pro bowl year for him. A

Coaching OK, the Jets are awful but a win is a win. They bounced back. Good teams win the games they need to win and another is coming up next, they must beat the Bengals to get to 8 wins and they will. A-




On the 1st of November, 1970, RB Mercury Morris, gained a Dolphin record of 302 combined yards. He ran 8 times for 89 yards, received 3 balls for 68 yards and returned 6 kicks for 145 yards.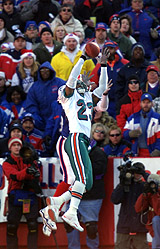 CB Patrick Surtain