Dolphins vs NY Jets road Summary

12/8/19

Grading the Dolphins

QB The Dolphins just could not get in the endzone and that resulted in 7 FGs. You can not win, even against the Jets with FGs alone. Fitzpatrick went 21 of 37 for 245 yards and an INT and ran for 65 yards on 7 carries. C+

RB The Dolphins can not run the ball from a regular set up and nothing has changed in the running game. Laird was the featured bach with 48 yards on 15 carries (3.2 average). Fitzpatrick was the leading rusher... C-

WR Ford had his best game as a pro leading the team with 92 yards on 6 catches. Devante Parker went out with a concussion and Gesicki also had a bad day with only 1 catch. Hurns caught 5 balls for 68 yards. C

OL The Dolphins O-line has good days and bad days. this was an avergae one. This unit will have to get serious help in the off season. C

LB They lost to the Jets, but giving up 22 is not the end of the world, the offense inability to get in the endzone doomed the team. Van Ginkel had a sack. C

DL The Dolphins just don't have any pass rush. None. D

Secondary The patched up secondary did OK but they were playing a bad team without a good QB. Can you really ask for more from this group of undrafted free agents ? C

Special teams WOW, Sanders tied a frnchise record with 7 FGs going 7 of 8. impressive. A

Coaching The Dolphins are fighting, It will probably cost them any real chance at Chase Young but good for them. C-




On the 1st of November, 1970, RB Mercury Morris, gained a Dolphin record of 302 combined yards. He ran 8 times for 89 yards, received 3 balls for 68 yards and returned 6 kicks for 145 yards.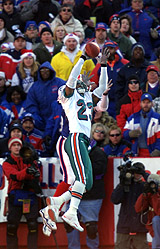 CB Patrick Surtain