Dolphins vs NY Jets road game Summary

9/16/18

Grading the Dolphins

QB Tannehill was solid and efficient most of the game. He also added 5 huge runs for 49 before his 3 kneel downs. He finished the season 17 of 23 for 168 yards and 2 TDs and one fumble. He also blocked when needed... He did miss a wide open Albert Wilson on a long pass by almost nothing. Great game for Ryan. A-

RB Kenyan Drake and Frank Gore played a solid game. The numbers aren't very good but they came through when it mattered. Gore had a huge 19 yard catch on 3rd and 19 to seal the game. Gore finished with 25 yards on 9 carries and the 19 yard catch. Drake was 11 for 53 and a TD. B

WR The Dolphins didn't have Parker (injury) again but they managed. Not a lot of production by the offese but they did produce when needed and scored 2 TDs. Amendola had 4 catches for 32 yards and Wilson 3 for 37. C

OL The run blocking was OK but the pass blocking gave up 4 sacks even though some of that is WRs not being open. C

LB Kiko Alonso had 13 tackles. McMillan and Baker had their moments. A good showing overall not breaking and keeping the Jets from scoring. B+

DL Three Sacks and a ton of negative or Zero plays for NY. They looked everywhere. Quin and the DTs really played well. The Jets could not run the ball. Philips, Hayes and Quin had a sack each. A-

Secondary There were a few breakups in coverage that Darnold and his WRs missed but rest assured Brady won't miss. In general they bent but did bot break. Howard had a huge INT and so did McDonald. B+

Special teams I know it's odd but punter Matt Haack had a huge game. He punted 6 times all inside the Jets 20 for an average of 48.5 with a long of 63. Good job. A

Coaching They looked great in the first half but it did look like were missing Sitton on offense. He's done for the year and the coached need to find a way to deal with that. The offense did not play very well in the second half up until the game clinching drive at the end. The defense played very well. A road division win is always huge. If they manage to win next week before the trip to Brady land it's going to be a great start. A-




On the 1st of November, 1970, RB Mercury Morris, gained a Dolphin record of 302 combined yards. He ran 8 times for 89 yards, received 3 balls for 68 yards and returned 6 kicks for 145 yards.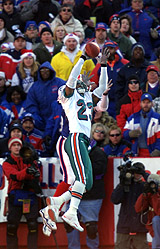 CB Patrick Surtain