Dolphins vs Jets road game Summary

9/24/17

Grading the Dolphins

QB Cutler missed wide open WRs, he was just bad. 26 of 44 for 220 yards TD and INT are misleading stats - that bad F

RB Ajayi carried the ball 11 times for 16 yards and he "led" the Dolphins. They had 30 yards rushing on the day and one of the carries was a 9 yard QB scramble with 10 seconds in the game. F

WR Parker was invisible up until garbage time, Landry dropped passes and couldn't get any separation, Nobody saw Stills. Why they didn't try Grant is beyond me. F

OL The 3 interior positions did not play well (yes, including center). Some guys were running free at Cutlet. The run blocking was somehow worse. F

LB It's no secret the Dolphins can not cover up the middle, Up next is Drew Brees... just saying. Chase Allen played well - We have come to that. F

DL 20 points to the Jets ? really. 2 back to back offsides ? really ? Suh can not play all 4 positions... This was Josh McCown and Bilal Powell on the other side. Yikes. This time Suh can't save them. F

Secondary The Dolphins were bad and them suddenly became worse. To put things in prespective - Josh McCown was signed by Miami 9 years ago (he was then 29) and did not last to see game 1 (traded to Panthers when Pennington came). Now that's when he was in his prime. He is 38 now and throwing 69 yard TDs against the Dolphins secondary. That's not good. Good luck with Drew Brees next week. F

Special teams At least Haack had one good punt. All else was awful. Fittingly the game ended on a missed extra point. Fake punt on 4th and 7 from your own 15 ? really ? F

Coaching They were unprepared, didn't look like they cared and continued to do the same things that did not work over and over again. That's just so Cam Cameron like. Yes - it was that bad. F-!




On the 1st of November, 1970, RB Mercury Morris, gained a Dolphin record of 302 combined yards. He ran 8 times for 89 yards, received 3 balls for 68 yards and returned 6 kicks for 145 yards.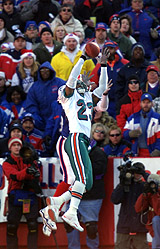 CB Patrick Surtain