Dolphins vs New England Summary

9/17/23

Grading the Dolphins

QB Tua was solid. He went 21 of 30 for 249 yards a TD and an INT. The Pats were trying to take the pass away playing 3 safeties so the Dolphins ran the ball. A nice victory. Tua had one INT on a deep throw that was underthrown (he was rushed) but other than that he was very good. His ELITE self. A-

RB The Pats tried to stop the passing game and Tyreek, they managed to do that at the expense of allowing the Dolphins to run, Mostert did just that. rushing 18 times for 121 yards and 2 TDs including a 43 yard TD. Rookie De'Von Achanne had his first carrer run and catch. He looks fast. A-

WR Hill was kept in check so Waddle was more open and played well. Even Smythe got into the passing game. B

OL The Dolphins O-line is playing very well. Lamm is a very nice surprise playing for T-Stead. The run blocking was very good. solid all around. B+

LB The Dolphins played well on offense, much better than last week. Van Ginkel was unstopable. B

DL Much better than last week. The Dolphins played nice game, solid road victory. B

Secondary Mac Jones is a media hyped average QB at best. His longest throw of the day was 14 yards. Howard got his first INT of the season. Kohu was excellent, great sack great coverage, just an excellent find, to think he was undrafted... A-

Special teams The Dolphins special teams are not very special and Sanders is just not playing very well. It was a decent performance. C

Coaching An impressive road division win. The Pats are not very good but could cause problems down the road. In order to win the division you have to beat the division opponets and they did just that on the road. A-


On the 1st of November, 1970, RB Mercury Morris, gained a Dolphin record of 302 combined yards. He ran 8 times for 89 yards, received 3 balls for 68 yards and returned 6 kicks for 145 yards.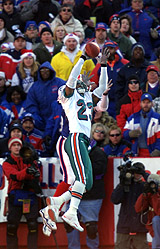 CB Patrick Surtain