Dolphins vs New England road game Summary

1/1/23

Grading the Dolphins

QB Tua is out with another concussion. Teddy started and again, like in the past got injured on an awful pick 6 play. Isn't the entire idea of a backup QB is to BACKUP ? If he keeps getting injured when the team needs hime what good is he as a backup ? Thompson isn't a real NFL QB yet and it showed. D-

RB The Dolphins run game wasn't that good and it doesn't help playing with no real QB... C

WR Hill and Waddle were invisible. They realy can't pass the ball to themselves... C+

OL The Dolphins O-line was decent considering the injuries. They are just not the same unit without Terron Armstead. C-

LB The Dolphins could not stop the Pats when a stop was needed at the end and the Pats offense is awful. C-

DL The run stopping can do better and they have to show up in critical situations when a stop is needed. C-

Secondary There are just so many injuries this unit can take, playing Noah and Crossen that much is not a very good recepie for success. C-

Special teams The Dolphins special teams are not very special. Another week, another weak game for Sanders. C-

Coaching A win would have secured a playoff spot and they lost. The collapse is now compplete with a 5 game losing streak... Just awful. D-


On the 1st of November, 1970, RB Mercury Morris, gained a Dolphin record of 302 combined yards. He ran 8 times for 89 yards, received 3 balls for 68 yards and returned 6 kicks for 145 yards.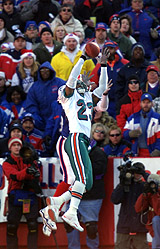 CB Patrick Surtain