Dolphins vs New England road Summary

9/12/21

Grading the Dolphins

QB Tua, 16 of 27 for 202 yards a TD and and INT looked OK. He did throw the ball downfield more than a year ago and looked much better than in 2020. He wasn't helped by two drops and had one very bad INT that almost cost the team the game. B-

RB The Dolphins do not seem to want tirun the ball and did have trouble running. Gaskin had a decent game and the Dolphins did seasl the game with a first down running out the clock. C

WR Devante Parker is the Dolphins WR1 and it showed again on Sunday when he had 4 catches for over 80 yards. His jump ball skill is unique. Waddle had a very good game with 4 receptions for more than 60 yards and a score. He did drop one costly catch on a 3rd and long. Gesicki did not have a catch. We will have to see if this was just circumstance or the increased volume of Waddle and begining next week Fuller. 2 major drops are 2 too many. B-

OL The Dolphins O-line had a decent game considering it was the first game and they were missing LT Austin Jackson. Rookie Liam Eichenberg started and was decent. The Dolphins now have a 1st, two 2nd, a 3rd and a 4th round picks on the line - This kind of investment must yield better play. C

LB Baker had a ton of tackles but no big plays. Von Ginkel and Philips were quiet. The run defense was just bad. They need to do something there. Time will tell if the release of McKinney was a mistake. C

DL The Dolphins did not get enough pressure. Raekwon Davis was injured on the first drive and the rest of the unit could not stop the run effectively or rush the passer. Ogbah was his usual reliable self but other than that... The Bills are next - Ouch. C

Secondary This is, by far, the best unit on the team. The CBs are stars, especially Howard. He is worth every penny and basically won the game with his strip/recovery. Jones also played well and Needham is a fine 3rd CB. McCourty played his first game as a Dolphin and was solid. They gave Jones only short passes and at the end of the day the Patriots scored 1 TD at home. A-

Special teams Jason Sanders is well - Jason Sanders. A

Coaching Well... a win in Foxboro is really really important, but this level of play will not be enough against the Bills next week. They have an opportunity early next week, will see. A win is a win even if a little luck and a brilliant play by X was needed. B+




On the 1st of November, 1970, RB Mercury Morris, gained a Dolphin record of 302 combined yards. He ran 8 times for 89 yards, received 3 balls for 68 yards and returned 6 kicks for 145 yards.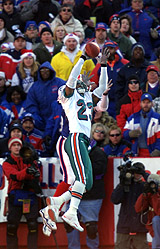 CB Patrick Surtain