Dolphins vs New England road Summary

9/13/20

Grading the Dolphins

QB Ryan Fitzpatrick had a bad game. He threw 3 INTs and no TDs. He did miss PArker in the second half but still. This is not a first class defense he was facing. D

RB The Dolphins do not seem set on the order of the depth chart. How can Jordan Howard play 9 plays and FB Cox 11 ? They could not get anything going. Gaskin leading the way before Howard and Breida is curious to say the least. D

WR Devante Parker is, by far, the best WR on the team and when he missed the second half the passing game stalled. There was just no separation. They could really use an upgrade at WR. D

OL The Dolphins O-line had a decent game. They started 2 rookies in LT Jackson and RG Kindley and they certainly held their own. RG Kindley impressed. The Dolphins seem to have a long term solution there. The pass blocking was solid, they had a few problems run blocking. Their play was certainly not the reason for the bad offensive day. C

LB They could not stop the run. Zero. Anytime you give up more than 200 yards rushing it's bad. LAwson did not play very well. D-

DL The Patriots rushed for over 200 yards and just simply pushed the D-line aside. Wilkins had a good day but other than him... D-

Secondary They weren't challenged mush (Why should the Patriots pass when they can run like that ?). They were decent when thrown at. They did give up some big plays. Rookie S Brandon Jones had 10 tackles. C+

Special teams They did OK although Grant had one bad punt return. C-

Coaching Really ? Bad game. Questionable plays. Gaskin ahead of Breida and Howard ? They looked unprepared for the read option play. The run defense was as bad as ever. Not good. And Josh Allen is coming and he can run... F




On the 1st of November, 1970, RB Mercury Morris, gained a Dolphin record of 302 combined yards. He ran 8 times for 89 yards, received 3 balls for 68 yards and returned 6 kicks for 145 yards.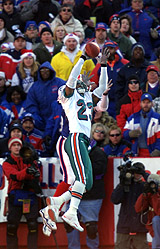 CB Patrick Surtain