Dolphins vs New England road Summary

12/29/19

Grading the Dolphins

QB Ryan Fitzpatrick had a great game leading the Dolphins to the upset vixtory, he passed the ball well (28/41, 320 yards and a TD), he also ean for a score and had no turnovers. B+

RB The Dolphins can not run no matter what. They finished their season led by a 37 year old QB with under 300 yards rushing - wow. RB Laird "led" the running game with 11 carries for 21 yards... D-

WR Devante Parker had a dominant game to finish his dominant staement season with over 1200 yards, 137 of them in this game going against CB Stephon Gilmore, considered by many as the best CB in the league. His clutch chunk yard catches delivered the victory. He gets and A all by himself. Ford (54 yards) and Wilson (59 yards) also finished the season strong although Wilson dropped a couple of balls. A (Parker A+)

OL The Dolphins O-line had a decent game. Not too much pressure on the QB. Now if they could only run block... C

LB They played a decent game against a top 3 team in the league. B

DL The Dolphins played better with better pass rush although the run defense wasn't that good. Still they won... C+

Secondary Hey that was Tom Brady throwing. He is 42 but he is still Tom Brady. The no name secondary played as good as can be expected. Rowe had a pick 6. B+

Special teamsThey missed a difficult fake punt but other than that they did OK. C

Coaching Really ? beating the Pats in New England in order to drop even further down the draft board ? Now we can't get even the injured Tua... Nice win, played hard till the end to finish the sesson 5-4 after an 0-7 start. A-




On the 1st of November, 1970, RB Mercury Morris, gained a Dolphin record of 302 combined yards. He ran 8 times for 89 yards, received 3 balls for 68 yards and returned 6 kicks for 145 yards.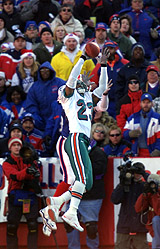 CB Patrick Surtain