Dolphins vs New England road game Summary

11/26/17

Grading the Dolphins

QB Moore was 23 of 34 for 215 yards with 1 TD and 2 INTs. The stats don't tell the entire story. The Dolphins scored 10 offensive points. That's just awful. D

RBRunning game ? what running game? 17 rushes for 58 yards for the two RBs. No-good. D

WR 8 recpptions for only 70 yards, that's about all. DeVante Parker had 1 recpetion for 5 yards - so much for the explosive year... D-

OL 7 sacks allowed, not much of a running game, 10 offensive points. D-

LB So they can't cover TEs and they are already experimenting in bringing in S. Anthony in place of the high priced Timmons on passing plays. No run stopping either. The Dolphins gave up 35 points. D

DL They did hit Brady a few times and Wake actually had a formal sack. Stoping the run is a different story. The Pats no name RB had 112 yards on only 15 carries and their no name FULLBACK added 50 rushing yards to go along with his 2 TDs. D

Secondary OK, we didn't think they had a real chance (Brady 18/28, 227 yards 4 TDs, 1 INT)... The Dolphins 2 boundary CBs have a grand total of ZERO INTs in the season's first 11 games - ouch. D

Special teams Nothing happened on special teams, and that's good news. C

Coaching The Dolphins lost 5 straight. Their season is over (and they play the Patriots again in the 5 games they have left). They will probably have a decent draft pick in the first round, but the team played so bad it's hard to point to a poistion or 2 or 3 that solidifing it will make a difference, and that's just a bad situation. D-




On the 1st of November, 1970, RB Mercury Morris, gained a Dolphin record of 302 combined yards. He ran 8 times for 89 yards, received 3 balls for 68 yards and returned 6 kicks for 145 yards.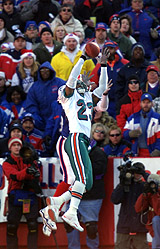 CB Patrick Surtain