Dolphins vs Atlanta Summary

10/24/21

Grading the Dolphins

QB Tua played well. He is certainly not the reason they lost. He did have 2 bad INTS but led them back in the 4th quarter and gave the defense a chance to hold for 2 minutes and win and they failed . He threw for 4 TDs and 291 yards on a 32 of 40 day. He played well. B+

RB The Dolphins went back to Gaskin after Brown was injured and he ran for 67 yards on 15 tries but when they needed a yard on 4th down to win this game they could not convert... C

WR You won't see it on the stat line but you lose games when you need 8 yards for a first, a first that could win the game and Gesicki runs a 7 yarder and gets out of bounds and then you fail to convert. That's not good. Waddle and Gesicki both caught 7 passes for 83 and 85 yards as the Dolphins played another game without Parker and Fuller. The rest of the catchers weren't that good. C

OL The Dolphins are giving up too much pressure but Tua made them looked better. The run blocking was also better than usual. C+

LB They played OK against the run but the passing game wasn't very good. Baker was injured in what continues to be a bad year for him. Robers, Van Ginkel and Philips were way too quite. D-

DL No sacks for the D-line and not that much pressure. The run game looks better since Davis returned. They melted like the rest of the defense at the end. D-

Secondary Well that wasn't a good game. Howard and Jones were back but did not play well. They tried to cover Kyle Pitts. He reminded what a silly idea was it to trade down in the draft when he caught 8 passes for 163 yards. The second most for a rookie TE since 1970! D-

Special teams Even Jason Sanders missed. It's been that kind of a year. D

Coaching Awful... The 1-6 Dolphins are perhaps the worst team in the league. The personnel blunders were on full display between Pitts' 163 yard day and JaMar Chase's 201 yard day. They will try to save their jobs by trading for Watson and it could really backfire because of his off the field issues. Tua is not the reason for this team's collpase. The defnse is just bad. The O-line despite the huge investments look not much better. 18th pick LT Jackson was already moved to guard... Just bad. F!


On the 1st of November, 1970, RB Mercury Morris, gained a Dolphin record of 302 combined yards. He ran 8 times for 89 yards, received 3 balls for 68 yards and returned 6 kicks for 145 yards.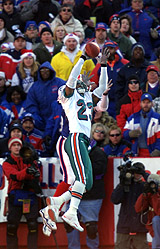 CB Patrick Surtain