Dolphins vs Atlanta game Summary

10/15/17

Grading the Dolphins

QB Cutler had some awful throws including the 2 INTs (one was called back by a roughing the passer penalty) but he looked much much better in the second half when he had more time. The throwing of the back foot really looked like it's hurting the offense. The receivers dropped a lot of passes but he also could have thrown them better. He finished 19 of 33 for 151 yards 2 TDs and 1 INT. C

RB When he gets decent blocking there is really no stopping Ajayi. He did get some nice blocking and made the rest himself. 26 carries 130 yards with a few 15-18 yard runs. Great game. He did drop 2 passes though. A-

WR Parker was injured. Grant got a crucial PI penalty but other than that the DOlphins WRs don't seem to get any separation. They are the most dissappointing unit on the team. Landry led the way with 8 catches for just 62 yards. C-

OL Solid run blocking most of the time, the pass blocking wasn't that good, especially in the first awful half. Pouncey did not play the second half but they actually played better the second half. C

LB The LBs look totally different in the last 2 games. Kiko was always good but Timmons and Maualuga really make a difference. To hold the Falcons to 17 points in Atlanta is impressive. A-

DL An good game for the line considering the second half when Suh, Wake and Hayes all made dominating plays. The first half does count too. The two rookie DTs are great players this late in the draft. A-

Secondary At the end of the day, despite the awful 40+ yards TD, they held the Falcons offense with Julio Jones to 17 points and won the game with a brilliant play by rookie 3rd round pick Tankersley and Jones. A-

Special teams Hack was solid and Parkey was 2 for 2 when it counted the most including a 49 for the tie and a winning 38 yarder. Good play on the Falcons bad snap. A

Coaching Well... An awful first half, a very good second half (the second TD to Landry was a brilliant play). They won on the road against the defending superbowl champ after being down 17-0. Has the offense really here to stay or was it a one time thing ? A-




On the 1st of November, 1970, RB Mercury Morris, gained a Dolphin record of 302 combined yards. He ran 8 times for 89 yards, received 3 balls for 68 yards and returned 6 kicks for 145 yards.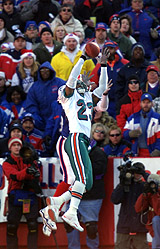 CB Patrick Surtain