Dolphins vs Chargers game Summary

9/17/17

Grading the Dolphins

QB Jay Cutler was very conservative in the first half and opened it up in the seconf half. He finished the game 24 of 33 230 yards 1TD and a paaser rating of over 101. A nice first game and a victory. He sure does have pocket presense and a rocket arm. A-

RB Ajayi is the most important and maybe best player on the team. He played an unheard of for a RB 95% of the offensive snaps and carried the ball 28 times for 122 yards. A ver good showing by Ajayi A

WR Parker showed why the team sees him as WR1. He cuaght 4 passes for 31 yards and made big plays. Landry caught mostly short passes and finished the game with 13 recptions for 78 yards. Stills caught only 2 balls but one of them was the Dolphins only TD of the day. C+

OL The LG position is a work in process and and Tunsil had and up and down game. There are still major holes to fill but they did OK. C+

LB When Timmons went AWOL it looked bleak. The Dolphins only had 4 LBs and only 3 played. Hull was fine but better opposing coaches will explore the weakness here. C-

DL The run stopping was good but there was ZERO pass rush. Suh played his usual self but Branch, Wake and Harris didn't get even close to Rivers. C-

Secondary The Dolphins were not very good in pass protection as Rivers went 31 of 39 for 331 yards. That's not good. D

Special teams A bad game for anyone not named Parky or Grant. Drake was average and Haack had a very tough first game. Ultimately Parkey won it for the Dolphins with a little help from the Chargers kicker. B

Coaching Aside from the bizzare timeout with 10 seconds to play Gase out coached the Chargers coach. Kudos to Chris Grier. We didn't understand the Parkey for Franks swap. We do now. A-




On the 1st of November, 1970, RB Mercury Morris, gained a Dolphin record of 302 combined yards. He ran 8 times for 89 yards, received 3 balls for 68 yards and returned 6 kicks for 145 yards.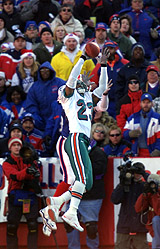 CB Patrick Surtain