Dolphins vs Buffalo road Summary

12/17/22

Grading the Dolphins

QB Tua bounced back and played good enough to win. The WRs dropped some passes and it could have been better but the QB play certainly was not the reaon for the loss. He finished 17 of 30 for 234 tards and 2 TD with no INT for a rating of 104. They scored 29 on the road. Good game. B

RB The Dolphins run game came to life. Mostert had 136 yards on 17 carries including a long 67 yards run. Ahmed had 43 on 6 carries including an eleven yard TD. A-

WR Aside from the one long 67 yard TD by Waddle, it was a quiet game for the WRs, still drops or incomletions on receptions that they could have made, including 2 in the endzone. In a close tough games they must hang on to the ball and score. C

OL The Dolphins O-line is just different when T-Stead played. They were solid and blocked well for the run. Tua generallt had enogh time. This Bills front is very very good. B-

LB The Dolphins lack of a big time ILB is showing. The Bills scored 32 points, it's hard to win like that. D+

DL They have talent on the line but the production is lacking. They can't seem to get off the field on 3rd down, The Dolphins ran for almost 200 yards, had a long passing TD, scored 29, did not have an INT and still lost... D+

Secondary The Dolphins banged up secondary was torched by Buffalo. Yes, there were some questionable calls but it should not come to that. The secondary is really missing Jones as they can not seem to contain TES. Howard is nnot having a good year. D+

Special teams The Dolphins special teams are not very special. Sanders played well. C+

Coaching A tough loss against a very good team. The offense bounced back but the points given on the road by the defense is alarming, considering they will fight to have a road playoff game... C+


On the 1st of November, 1970, RB Mercury Morris, gained a Dolphin record of 302 combined yards. He ran 8 times for 89 yards, received 3 balls for 68 yards and returned 6 kicks for 145 yards.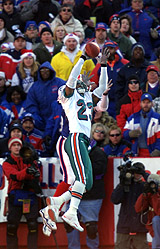 CB Patrick Surtain