Dolphins vs Buffalo Summary

10/31/21

Grading the Dolphins

QB Tua was average at best and he could not lead this team to points. He managed only 11 points. Just not a good game against a Buffalo team that is simply way better. If he gets by the trade deadline, he will probably play better next week against the Texans. He was 21 of 39 for 205 yards and an INT and a rushing TD. D+

RB The Dolphins don't really have a running game, they sometimes manage to run the ball but it's not really a running game. The personnel is lacking a true starter and the blocking isn't very good and that's the main reason this offense is not a very good one. Gaskin "led" the team with 36 yards on 12 carries, a 3.0 average... Ouch. D-

WR Parker was back (for now...) and caught 8 passes for 85 yards. Gesicki was quiet but did catch the longest pass of the season on a broken play that went for 40 yards. The way this team uses Waddle is beyond me - 4 catches for 29 yards... Other than that the rest of the WRs aren't any good. D

OL The Dolphins are getting better but not by much, the wrong decisions in the draft are on full display when it comes to the O-line. Tua doesn't have much time to throw and the play callers call short passes because they too beleive he wouldn't get the time needed for a long route. That's frustrating. D

LB Riley played for Baker and was better than expected. The defense as a unit played a good 35 minutes before thay collapsed. It wasn't a bad game, they played good enough to win but apparently winning requires an offense. B-

DL Ogbah and Wilkins are solid players and so is Davis but they are not getting to the QBs enough. They were good the first 35-40 minutes, that's not bad. B-

Secondary Howard wasn't his usual self and Jones was OK. They did not have an answer to COle Beasley that finished the game with 110 yards on 10 catches, that's just not good enough. D+

Special teams Even Jason Sanders is off this year... He missed a short FG - Wow... D-

Coaching The defense played better but in order to be competitve against a team like the Bills you have to play well on both sides of the ball. Their offense is just bad, no running game and mediocre WRs. The O-line is simply not good enough despite the high draft picks. This is just embarassing and the fans deserve better. How bad is this team ? They want to trade their entire future for a guy with TWENTY TWO lawsuits against him and TEN criminal complaints that we don't know if he could actually play for them. It's become that bad. F


On the 1st of November, 1970, RB Mercury Morris, gained a Dolphin record of 302 combined yards. He ran 8 times for 89 yards, received 3 balls for 68 yards and returned 6 kicks for 145 yards.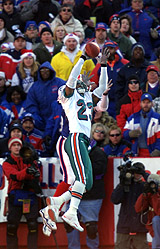 CB Patrick Surtain