Dolphins vs Bills road game Summary

10/20/19

Grading the Dolphins

QB The Dolphins are getting better on offense. They put up 21 points, a season high and led most of the game. Fitzpatrick threw for almost 300 yards and a TD and ran for another but he did throw an INT on the 2 yard line. C+

RB The Dolphins started Mark Walton again and he looked good again, he actually looked better then Drake as he hits the line quickly without going sideways. C+

WR Parker has a TD in 3 straight games. Gesicki also looks much better this year. Preston Williams had more than 80 yards. C+

OL The Dolphins O-line is getting better. No sacks is a good start and Walton played better behind the makeshift line. C

LB The Dolphins gave up 24 points to the Bills. Decent but not great. McMillan is quietly having a good year. LB Vince Biegel is also a keeper C

DL The Dolphins have 7 sacks in 6 games... D

Secondary CB Xavier Howard did not play again. The other were OK. C-

Special teamsThe least of our problems B

Coaching The Dolphins coaches were aggressive, the team played better. C




On the 1st of November, 1970, RB Mercury Morris, gained a Dolphin record of 302 combined yards. He ran 8 times for 89 yards, received 3 balls for 68 yards and returned 6 kicks for 145 yards.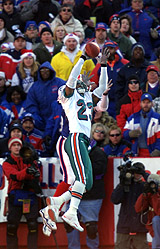 CB Patrick Surtain