Dolphins vs Bills road game Summary

12/30/18

Grading the Dolphins

QB Tannehill was awful again, throwing two bad INTs (and a fumble) and failing to throw a single TD. The Dolphins scored 10 points. It's true he doesn't have any WRs or a decent line but still. We have probably seen the last throw he threw as a Dolphin. He did catch his first career pass and it went for a score. 18 of 31 for 147 yards and 2 INTs. That's just bad. F

RB The Dolphins scored 10 points. Ten! Drake is a very good third down back and Ballage has promise but thery are a part of this historically bad offense D-

WR Devante Parker has 2 TDs in the last 2 years. To put it in presepective Ryan Tannehill caught a TD today... The WRs are awful and the TEs can not block. That's not good. On some of those sacks Ryan had nobody to throw to. F

OL Ryan was sacked, hit and almost killed. But then again they can not hold blocks forever. Ten points! D-

LB The Dolphins finished the game without Kiko, who was ejected along with Quinn. McMillan looked better in recent weeks and maybe that's a good sign going into year 2 with McMilland and Baker, but still, they Bills looked like a top 5 team. They are not. F

DL 42 points to the Bills ? really ? Charles Harris has 3 career sacks in 2 years and 36 year old Cam Wake is their best run stopper, that's just bad.... F

Secondary Somehow Josh Allen put 42 points on the 4th string secondary. Only Fitzpatrick is a regular who managed to finish the game. Jones had a pick 6. Other than that they are all responsible for the 42 the Bills put up. D-

Special teams Even punter Matt Haack looks off.. C-

Coaching Frustrating. Gase looks like a decent coach but it just doesn't add up. Awful defnese should not be that bad considering Howard, Jones and Fitz are good players. The D-line is awful and so is the interior of the O-line. The WRs and TEs also are not NFL caliber. Is it a coaching thing or a front office thing or both ? We'll find out soon what owner Ross thinks. Ross has always tried everything he can to make this right, he spares no expense. We'll see... F




On the 1st of November, 1970, RB Mercury Morris, gained a Dolphin record of 302 combined yards. He ran 8 times for 89 yards, received 3 balls for 68 yards and returned 6 kicks for 145 yards.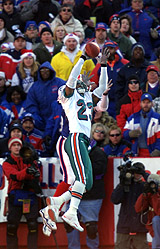 CB Patrick Surtain