Dolphins vs Bills road game Summary

12/17/17

Grading the Dolphins

QB Cutler followed his best game of the year with his worst game of the year. He just had some awful throws, going 28 of 49 for 274 yards and 3 INTs. That's 3 times more turnovers than offensive TDs. He also dropped the ball killing drives way too many times. D-

RB Kenyan Drake played OK. He had his big runs early but also had a lot f negative plays. He finished the game with 16 rushes for 78 yards and a TD. He aslo added 6 receptions for 35 yards. He sure looks like the starter but it was not as good a game for him as the previous two. He does block on pass coverage really well. B

WR The Dolphins dropped too many balls. At the end of the day their stats look decent but that was because of the 2 stat padding drives at the end. Landry (10 for 99) played OK. Parker is just not the same player (6 for 89 yards and a bunch of dops). Stills had an awful game catching 1 pass for 8 yards. D

OL The run blocking was iffy to go along with ana average pass blocking. It doesn't help when the QB drops the ball... The Dolphins scored 16 points. You can not win with 16 points. D+

LB Kiko missed a few tackles and the Bills offense looked unstoppable. With all do respect to McCoy he is the only decent player on their offense (maybe QB Taylor is also decent). Much better job in the 2nd half when the Bills were just waiting for the game to end. C-

DL They really did not get to Taylor and the run stopping improved only in the second half after giving up 21 points to Taylor, McCoy and 9 no names. Tha't not very good. C-

Secondary The Bills don't have any WRs so it wasn't supposed to be difficult. They weren't very good on run support. C

Special teams A nice onside kick and some decent returns. It didn't help though. B+

Coaching They actually had a chance after last week and they blew it. Scoring 16 points is not going to get you to win any game in this league and the Bills are not a very good team. That's just frustrating. They did not play well at all. Let the draft talk begin, the Dolphins are not going to get back to .500. D




On the 1st of November, 1970, RB Mercury Morris, gained a Dolphin record of 302 combined yards. He ran 8 times for 89 yards, received 3 balls for 68 yards and returned 6 kicks for 145 yards.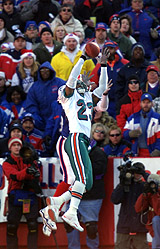 CB Patrick Surtain