Dolphins vs Cardinals game Summary

11/8/20

Grading the Dolphins

QB Tua looked great! He led the team to a very tough road victory in a shootout against Murray. He looked poised, accurate and made plays both running and passing. The future sure looks great at the QB position. He finished the game 20 of 28 for 248 yards and 2 TDs with no INTs A-

RB Without the top 2 RBs the team turned to practice squad member Salvon Ahmed and he looked much better than expected rushing for 38 yards on 7 carries. Howard had 10 carries for just 19 yards. He looks like the odd man out. C

WR DeVante Parker led the team with 7 recptions for 64 yards and Preston Williams added another 60 on 4 catches and a score. Mack Hollins caught his first pass and it was a TD to tie the game. C

OL The Dolphins O-line did a decent job against the pass but the run game still needs better blocking. Austin Jackson returned to his LT position and added stability to the left side. B

LB Jerome Baker led the team with 7 sacks and the defnse had a decent game. Kyler Murray is close to unstoppable. They did enough to win. B

DL Ogbah is seriously looking like a probowl player. Raekwon Davis looks much improved and the defense as a unit played well. B

Secondary There were a few PI calls that looked weird but DeAndre Hopkins and Fitzgerald are HOFs. Kirk had speed and got away from Jones but it happens. It could have been much worse against those 3 WRs. B-

Special teams Sanders continued his franhise leadin streak and looks like a probowl kicker. He connected on two FGs one from 56 yards! They are a solid unit. B+

Coaching Great game plan, good execution. Flores is on the short list for coach opf the year at this point. Just a great game and they were missing 4 coaches due to COVID. Wow, impressive win. A+




On the 1st of November, 1970, RB Mercury Morris, gained a Dolphin record of 302 combined yards. He ran 8 times for 89 yards, received 3 balls for 68 yards and returned 6 kicks for 145 yards.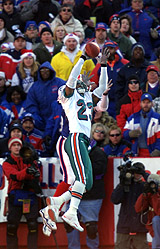 CB Patrick Surtain