dolphinsinfo.com 1999 News Page
Jimmy Johnson resigns. Wannstedt named head coach

(1/16/00)

Jimmy Johnson announced his retirement today. It wasn't a big surprise because he did retire last year also. But this time he is really gone. JJ spent 4 years with the Dolphins, changing the entire roster. Very few players remain from the Shula days. In his first year Miami went 8-8. In the following 3 years Miami reached the playoffs going 2-3 in the playoffs reaching the divisional playoff round twice. JJ has 2 superbowl rings as head coach of the Cowboys and a national championship with the university of Miami. JJ said he wanted to spend more time with his family.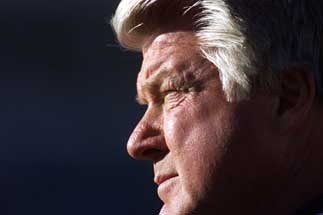 Wannstedt was hired last year as the assistant head coach. He is a long time friend of JJ, he coached with him as the defensive coordinator in Dallas and at the college level (university of Miami and Oklahoma state). He was the head coach for the Chicago Bears before being fired after 6 years. In his 6 years in Chicago he never won the division title. He had a winning record only twice (9-7). He made the playoffs only once losing in the divisional playoff round. He was fired after back to back 4-12 seasons. His final record as Bears coach was 40-56. Wannstedt became the 4th coach in team history (Wilson, Shula and JJ).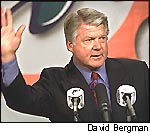 My comments - The JJ resignation was no surprise but I am not sold on the Wannstedt promotion. Of course, I don't know him and he could be a great coach (I heard he is), But his record as a head coach is not very encouraging (and that's an understatement, like saying the Dolphins lost yesterday...). He wasn't very good, he had a winning percentage of 41.7. Miami is a big name type of team and a lot of big time coaches would be intersted (Schottenheimer for example). I guess the team thought about it and with the coaches availbale decided that Wannstedt being in the organization for a year is the best answer. We all hope he'll do fine.
Miami has fired offensive coordinator Kippy Brown, QB coach Larry Seiple and line coach Rich Mcgeorge. The team also released defensive coordinator George Hill and D-line coach Godette.
Dave Wannstedt is Miami's 4th head coach in its history.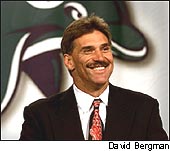 GOOD BYE JIMMY AND GOOD LUCK !
Jimmy Johnson saying goodbye.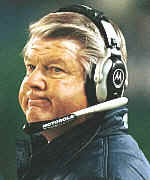 JJ took Miami to 3 straight playoff appearences.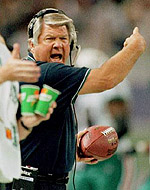 3 Dolphins selected to the pro bowl

(12/22/99)

K Olindo Mare and CB Sam Madison were selected as starters to this year's pro bowl. LB Zach Thomas was also selected as a backup. Madison is the first Dolphin CB ever selected to the pro bowl. Mare is the 2nd kicker in Miami's history to be named for the pro bowl (Garo Yepremian). Mare is 37 of 43 in FGs this year. He tied the record for most FGs in a season and he has two more games to try and break the record. Madison is tied for the NFL lead in INTs with 7 (tied with Troy Vincent), he returned 1 INT for a TD. He also leads the team with 15 passes defended. Thomas as usuall leads the team in tackles.
DT Daryl Gardener, G Kevin Gogan and special teamer Larry Izzo were selected as second alternates, while S Brock Marion was selected as a third alternate.
For his performance in the San Diego game Olindo Mare was named AFC special team player of the week. He was 4 for 4 in FGs on sunday.
Dolphins release Underwood, extend Zolak's contract

(12/17/99)

The Dolphins released troubled DE Dimitrus Underwood on Friday. He escaped last week from the mental institution where he stayed.
The team announced that third string QB Scott Zlak's contract has been extended through the 2000 season. Zolak was signed Oct. 27 when Marino got injured. He did not complete a pass in 4 attempts this season.
Cecil Collins arrested on burglary chargers

(12/16/99)

Dolphins' rookie RB Cecil "the diesel" Collins was arrested early this morning on buglary chargers.
Reports are that he broke into an apartment in Davie, near his home. Coach Johnson said he was very disappointed in Cecil's actions. Collins was Miami's 5th round draft pick and he was named starting RB early this year before breaking his leg against Buffalo. He dropped in the draft because of character issues.
Collins was suspended indefinitely.
QB Damon Huard signs two year extension

(12/4/99)

Backup QB Damon Huard has signed a two year contract extension worth 2.1 million dollars. That will keep Huard in a Dolphin uniform untill 2001. Huard would have been a restricted free agent, that means if Miami wanted they could have given him a first round tag (around a million a year) and the team that wanted to sign him would have needed to compensate Miami with a first round pick. I don't think anyone would have done that.
The upside as far as the Dolphins, some of the extension money would count to this year's salary cap. Huard gets a 750,000 dollars signing bonus. Not bad...
Surtain and Pritchett named starters

(12/1/99)

Patrick Surtain was named starting left CB. T-Buck had a few bad games and he was demoted for Surtain. T-Buck will be a free agent at the end of the year and Miami has showed no interest in giving him a mega-million contract. He will probably play in the nickel package. The odds of him staying in Miami next year don't look promising right now.

Stanley Pritchett was named starting FB in place of rookie Rob Konrad. Konrad's play declined in the last few weeks. He lost a fumble and dropped easy passes. rookies tend to decline at the season's end because they are used to playing shorter seasons in college. Konrad won the starting job from Pritchett at the begining of the year.

Miami has put FB Kantroy Barber on injured reserve meaning he won't be able to play the rest of the year.
Collins out for a month.
Marino could play at Dallas

(11/17/99)

RB Cecil Collins has broken his leg in the road game at Buffalo. Collins will be out for about a month. In his absense, RB James Johnson will be the starting running back. JJ said that JJJ will carry the ball exclusivly. third string RB Autry Denson and FB Rob Konrad will back him up, but JJ said that they will carry the ball only in case of an injury to RB Johnson or in a situation that JJ decides to give RB Johnson a rest between plays.
Miami is getting very thin at RB. They started the year with 12 RBs but now they are down to 7th rounder (of Tampa Bay) Denson who was never activated for an NFL game yet.

Dan Marino got the clearence he wanted from the back specialist Dr. Watkins from California to return to practice. Marino can practice lightly without contact.
Marino has regained most of the strength in his arm but he's not back to his old self yet.
In all probability Huard will play against New England. There is a chance that Marino will be able to start against Dallas on Thanksgiving day. Although, Miami only has 3 days of practice in between games. According to reports, Dr. Watkins told Marino to take it slow because if Marino reaggravates the injury he could need surgery that will be season ending and possibly career ending.
Marino was scheduled to return Dec. 5th against Indianapolis.

RT James Brown was injured in the Bills game, but JJ said it is not a major injury and Brown will be fine and play against the Patriots.
Madison named AFC Defensive player of the week

(11/10/99)

CB Sam Madison was named AFC defensive player of the week for his performance in the Tennessee game.
It is the third time that Madison recieved the award. Madison had 3 INT giving him 5 for the year (tied for the NFL lead).
Marino out for sunday.

(11/10/99)

Dan Marino did not get the clearence to start practicing again. He was evaluated with mixed results. The injury is healing slowly and Marino will probably play again, but he was ruled out for this week. He will be re-evaluated on a weekly basis. If Marino can't go next week also (vs New England nov. 21st) he could miss 3 games since the Dallas game is scheduled for thursday, the 25th of November.

Even if he is healthy it could take some time for Marino to get used to the new offense (run, run, run, punt as JJ said this week). As always JJ couldn't really say anything good about Marino, he said that Huard played good.
Huard is 3-0 as the starter. The defense allowed 5 FGs in the 3 games Huard started, that is an average of 5 points per game. The defense and special teams did give the offense pretty good field position , so you don't have to be brilliant to win when the defense is playing like that.

JJ said Marino will be the starter when he "gets is synch" with the offense. That's a little bit more than 100% healthy... JJ also said that he never said that there will not be a QB controversy, but he did say that Marino is the starter.

I think that Huard played a good game vs The Titans, but, he is no Marino that's for sure. It doesn't take a hall of fame QB to win in a game your defense doesn't allow a single point and pick the opposing QB 3 times.
Mare named special teams player of the month

(11/5/99)

Olindo Mare was named AFC's special teams player of the month for the month of October. This was Mare's first monthly honor. The last Dolphin to win the monthly award was Robert Jones last year. Mare has already kicked 25 FGs and is on pace to break the record of 37. Mare also leads the NFL in points.
Jacquet named special teams player of the week

(11/3/99)

Nate Jacquet was named AFC special teams player of the week. He had 3 returns for 64 yards, a 21.3 yard average. He had returns of 33 and 25 yards. His 25 yarder to the Raiders 39 set up the Dolphins last score.
This was Jacquet's first player of the week honor.
Bock - out for season. Dolphins sign Sheldon

(11/3/99)

G/C John Bock suffered a season ending injury during a FG attempt on sunday. He did have surgery and was put on injured reserve, meaning he won't be able to play again this year. Bock played both guard and center. Miami re-signed OL Mike Sheldon. Sheldon played with Miami last year, starting 2 games for the Dolphins. He was in and out of the team all year long. Rookie center Gray Ruegamer is not really ready to make a contribution this year and is viewed as a long term project. He was activated only once this year.
Marino - out for at least 2 more weeks

(10/27/99)

Dan Marino visited a specialist on tuesday. The examination concluded that surgery wasn't necessary but Marino will be sidelined for at least two more weeks, possibly more. Marino said he "will play again" but he doesn't know when exactly. For now, Damon Huard will play against the Raiders and Titans.
Miami has signed veteran QB Scott Zolak. He will be the emergency 3rd string QB. Zolak played 8 years with New England, he signed with the Jets prior to this season but he was waived.
In order to make room for Zolak, Miami waived WR/returner Roell Preston after just one week with the team. He returned one punt for 6 yards.
Marino - probably out for sunday's game

(10/22/99)

QB Dan Marino will probably sit out the Philadelphia game with an injury. The injury has prevented Dan from practicing on wednesday and thursday.
Marino's streak of starting 46 consecutive games will also end (2nd highest streak among QBs in the league). JJ has said that he will be evaluated prior to the game and he will be a game time decision. Offensive coordinator Kippy Brown told reporters that Marino could play without practicing at all. In all probability, Damon Huard will get his first career start on sunday. Jim Druckenmiller will be the backup QB, Brown said that the team has "a plan" for an emergency 3rd string QB.
Mare, Madison get weekly honors

(10/22/99)

Olindo Mare was named special teams player of the week by the NFL for his performance in the New England game. Mare was 6/6 in FGs setting a team record. The longest FG was 53 yards the longest of his carrer and longest so far this season. He also broke an NFL record with 4 consecutive games with 4+ FGs.
Sam Madison was named AFC defensive player of the week for his performance. Madison shut down Terry Glenn, Glenn didn't have a catch all day. An amazing achievment considering Glenn entered the game as the NFL leader in receptions and yards. It was the second time this year that Madison recieved the award and the second award of his 3 year career.
Jabar traded to Browns

(10/19/99)

RB Karim Abdul Jabar was traded to the Cleaveland Browns today. The team will recieve Cleaveland's original 6th round choice in the 2000 draft (which will likely be the first choice in the 6th round). Jabar fell to third string behind Collins and JJJ. If Jabar extends his contract during the season Miami will recieve an additional 5th round pick in the 2001 draft. Jabar would have been a free agent after the season and Miami at least get something out of him by trading him now. The downside is that the team now doesn't have a lot of RB after the Avery trade. FB Kantroy Barber was signed to the active roster from the practice squad.
The Dolphins also signed RB Autry Denson. He was signed from the Tampa Bay practice squad, to make room for Denson Miami waived WR Larry Shannon.
Dan Marino passes 60,000 carrer yards before injury

(10/18/99)

Dan Marino threw only 3 passes in the october 17th game against New England. That was enough in order to be the first player in history to pass for 60,000 yards. Marino hit Martin for 8 yards at the begining of the game, he now has 60,001 career yards.
The extent of the injury will be known later in the week.
Dan Marino Named offensive player of the week for the comeback win against Indy

(10/13/99)

Dan Marino was named offensive player of the week for his performance in the game in Indianapolis. Marino completed 25 of 38 for 393 yards and 2 touchdowns, that calculates to a 117.0 rating points. His brilliant performance won the game for the Dolphins.In the 4th quarter alone he was 12 of 17 for 176 yards and 2 TD, 143.3 rating. His brilliant play was highlighted by a 48 yard completion (to Gadsden) on a 4th and 10 from midfield on the last seconds of the game, he followed that 2 plays later with a 2 yard game winning touchdown pass to Oronde Gadsden. His yards total of 393 was his best since oct. 1st 1995 when he threw 450 yards against the Bengals. It is the second time in 4 games this season that Marino was honored for his play.
Marino needs 7 yards to reach the 60,000 yards milestone.

This is the 18th time Marino has recieved that honor in his career, an NFL all time high.
Collins named starter, JJJ backup

(10/8/99)

Cecil "the diesel" Collins was named starting RB in the upcoming game at Indianapolis. Karim Abdul Jabar dropped to 3rd string. Rookie RB James Johnson will be the backup RB.
Collins was already playing most of the time in the last two games, coach Johnson said that Karim will continue to contribute in the season. It's possible that Karim will be inactive this week.
The move was expected, but was not expected to be so soon. Collins didn't have a great game against Buffalo or Arizona but he showed potential breaking tackles and gaining extra yards. The OL will miss LG Richmond Webb (2-3 weeks) and LG Mark Dixon (1-2 weeks), so that isn't ideal for Collins who is finally close to 100% after getting injured in pre season.
OL Mike Sheldon was signed to help the injured OL. Brent Smith will start at LT and Kevin Gogan at LG.
Madison named AFC Defensive player of the week

(9/22/99)

CB Sam Madison was named AFC defensive player of the week for his performance in the week 2 win over the Arizona Cardinals.
It is the first time that the 3rd year CB out of Louisville recieves the award. Madison had 2 of Miami's 4 INT in the last sunday win over the cards. He joines Terrell Buckley and Shawn Wooden who recieved the award in the past.
Avery traded to Broncos for WR Marcus Nash

(9/21/99)

John Avery, last year's first round draft choice (29th overall) was traded to the Denver Broncos in exchange for WR Marcus Nash who was picked after Avery in last year's draft. Coach Johnson said that with the additions of the rookie RBs Avery did not fit in.
Avery droped a pass against Denver last week and was inactive against the Cardinals. He lost his job as 3rd down back last week to JJ Johnson and kickoff return specialist to Brock Marion.

Brent Bartolemew out for season.

(9/21/99)

Punter Brent Bartolemew was injured on sunday during the Arizona game. He was injured while playing on the coverage team.
He had surgery after the game and will not return this season.
Jimmy Johnson told reporters that the Dolphins are planning on bringing 3-4 punters this week and the team will choose one of them and sign him. P Bartolemew was the first K or P that Johnson ever drafted. Bartolemew was drafted in the 6th round of last April's draft out of Ohio state, he beat Nick Gallery early in training camp and improved constantly. He will return next year.
Dan Marino Named offensive player of the week.

(9/17/99)

Dan Marino was named offensive player of the week wednesday for his performance in the monday night game in Denver Marino completed 15 of 23 for 215 yards and 2 touchdowns, that calculates to a 124.0 rating points. Dan didn't have to throw much because the Dolphins were ahead most of the time and the running game was doing fairly well for a change. He made zero mistakes and if not for 2 dropped passes (Avery and Mcduffie) and 2 passes when the recievers failed to get their feet inbounce (Drayton on a potential TD pass) he could have gone 19 of 23.

This is the 17th time Marino has recieved that honor in his career, an NFL all time high.