dolphinsinfo.com 1-8/2001 News Page
Dolphins sign Taylor and Fletcher (7/25/01)
The Dolphins signed DE Jason Taylor to a six year 42 million dollar deal. The deal gives Miami another defensive starter that's signed until 2003. Taylor was taged with the franchise tag which assured him more than 5 million this year. Taylor went to his first pro bowl last year after he recorded 14.5 sacks.
The Dolphins managed to sign their first round draft pick, CB Jamar Fletcher to a five year deal. Fletcher is projected as the nickel back.
Dolphins re-sign S Brock Marion (6/11/01)
After a long offseason of ups and downs starting safety Brock Marion re-signed with Miami.The deal is a two year deal but it's back loaded and the Dolphins could release Marion next year. The 8 year veteren made his first pro bowl last year. A lot of people weren't that satisfied with Marion's performance since he came to Miami from Dallas with a big free agent deal 3 years ago. I don't agree. He led Miami in tackles and had 5 INTs last year and he always seems to be the one saving the Dolphins with a big-play-saving tackle. Most of those plays are bad plays by other Dolphins.
Marion's signing will give the Dolphins 10 starting defensive players that are returning for the 2001 season. The only starter that won't be back is LB Robert Jones.
Dolphins pick CB, WR, RB, 2 LBs, 2 OLs and a QB (4/24/01)
The Dolphins made a surprising first round pick. Not because of the talent (nobody really knows how good a draft pick is) but because of the fact that CB is Miami's strongest position. Let's take the best case scenario and Fletcher (picked 26th overall) plays near pro bowl level he still will only be the nickel back and will never start in front of Surtain and Madison. True, Miami's nickel back is in there almost half the plays, but still Miami has more pressing needs and starting positions to fill. Miami still doesn't have a starting LB (you really can't count on a 3rd round pick, the last time Miami picked a LB in the third round it was Brad Jackson who never made it past training camp). Miami still doesn't have a safety to replace pro bowler Brock Marion. In that case I don't get a team that selects a rookie unproven nickel back and pays him more than a million a year and can't pay Brock Marion which is coming off a pro bowl year, we know he can play and hit and judging from other safety's contracts Marion wouldn't have costed much more. Anyway, Fletcher is supposed to be a very good cover corner who won the Thorpe award for best DB in the country, his down side is his size (between 5-8 and 5-9) and he doesn't run very fast (for a corner...). Fletcher had 7 INTs last year and 21 for his career in Wisconsin.
In the 2nd round Miami traded 4 places up (in exchange for their 4th rounder) in order to get WR Chris Chambers (52nd pick overall) from Wisconsin. Chambers is over 6 feet and he has great speed at 4.4 (or less) in the 40 yard dash. His down side is that he drops a lot of balls. In most mock drafs Chambers was rated as a first round draft choice and getting him in the second round was great. In the 3rd round the Dolphins selected RB Travis Minor (Florida State) which is in the small and speedy type RBs and he will probably challenge RB Autry Denson for the 3rd down back place. Miami traded next year's 2nd rounder for Philadelphia's 3rd and 6th round draft choices in order to get LB Morlon Greenwood (Syracuse). People say he doesn't make a lot of big plays but he is very productive. He will have a shot to compete for Miami's openning at the starting LB spot in place of the departed RB Robert Jones.
In the 5th round Miami picked OT Shawn Draper (156 overall, Alabama) and in the sixth round the Phins took OT Brandon Winey (Louisiana State, 164 overall). Both of them are projects with an upside and a boom or bust risk. In the second of Miami's 4 sixth rounders Miami took QB Josh Heupel from Oklahoma (177 overall) Heupel lead the Oklahoma Sooners to the national title and finished second in the Heisman trophy balloting. The "experts" say his arm is not strong enough for the next level. He will have a hard task when he competes with QB Mike Quinn for the 3rd string QB job. In Miami's next two picks the Dolphins took a shot at DE Ottis Leverette (Alabama Birmingham, 187th overall) and LB Rick Crowell (Colorado State, 188th). Leverette has a shot at making the team because the team is short on DEs since both Owens and Armstrong signed elsewhere. We shouldn't expect anything from those picks (I actually don't usually expect anything from anyone past the 4th round and ocassinally get surprised with a Zach Thomas or a Mark Clayton).
Dolphins sign Ward, Springgs (4/20/01)
The Miami Dolphins cut OJ McDuffie's salary in order to free money under the team's salary cap. But the Dolphins oddly enough did not use that money to re-sign pro bowl safety Brock Marion. With the newly found cap space the Dolphins signed Jets' receiver Dedric Ward. Ward was a third WR for the Jets until last year when he was promoted to starter due to the departure of WR Keyshawn Johnson. He caught over 50 balls for 801 yards and 3 TDs. He started all 16 games. Ward is very short at 5-9 and is a speed receiver. He joins McKnight as Miami's second free agent WR acquisition this off season, both are speed receivers.
OT Marcus Springgs was signed yesterday to a 2 year contract. He plays on the right side but he did play also as a left tackle and he plyed LT in college. The signing of Springgs almost assures that long time Dolphin Richmond Webb won't return.
The signing of both Ward and Springgs takes some pressure off Miami in the draft because the team doesn't have to draft a WR or an OT in the first two rounds. Spriggs will backup Brent Smith at LT, Todd Wade at RT and will compete for the LT starting spot. The Dolphins are still looking for a starting LB (in place of the departed Robert Jones) a nickel back (for Shaw, who signed with New England) and safety for pro bowler Brock Marion which is still unsigned. The Dolphins have room under the salary cap to sign their rookies but in order to sign more free agents (or Marion) they will need to create room by restructering current players' contract.
New England sign Damon Huard (3/29/01)
Recently released QB Damon Huard has agreed to terms with the New England Patriots to serve as Drew Bledsoe's backup. Huard reportedly agreed on a 3 year deal worth about 3 million dollars. Miami released Huard after they signed QB Ray Lucas from the Jets to be Fiedler's backup. Huard best year was 1999 when he started 5 games for the injured Marino. Huard was 4-1 in those games and led Miami to a comeback win after entering the New England game early in the first quarter.
McKnight, Lucas signed. Donnalley gone. (3/18/01)
The Dolphins signed Dallas reciever James McKnight. McKnight will fight for a starting position as Miami's deep threat. McKnight has great speed and he is relatively big at 6-1. McKnight finished last season with the Cowboys with 52 receptions for 926 yards but only 2 TDs. He was Dallas' 3rd WR but was forced to start when starters Galloway and Ismail were injured. McKnight was Miami's first choice at WR and he signed a 5 year deal reported to be around the 9 million dollar range.
The NY Jets failed to match Miami's offer to QB Ray Lucas and he became a Dolphin. He will be Miami's backup QB, but if he plays better than Fiedler he will get a chance to start. Reports from the team say QB Damon Huard will be released or traded.
G Kevin Donnalley signed with the Carolina Panthers.
Rogers resigns, Armstrong gone. (3/8/01)

The Dolphins started making moves in the offseason. At first they resigned LB Rogers to a 4 year deal. Miami has also signed an extension with Patrick Surtain, believed in the 4 year 27 million range. The Dolphins also took the first big hit of free agency when DE Trace Armstrong signed with the Raiders. Larry Izzo is now a New England Patriot.
The dolphins also signed G Perry from the Bears he will play RG for the free agent Kevin Donnalley. The Dolphins also signed Jets QB Ray Lucas to a three year offer sheet worth about 2.75 million for 3 years. The Jets have a week to match the offer. If they don't Miami won't have to give any compensation since Lucas was an undrafted free agent.
Mare signs 6 year deal, Jones released (3/1/01)

The Dolphins signed K Olindo Mare to an NFL all time high (for a kicker) 12 million 6 year contract. The contract came only one day before the start of free agency.
Mare's deal which averages 2 million a year is far more than Green bay's Longwell (1.5) or the Colts' Vanderjat (1.3) It was believed that Washington and Tennessee were to pursue Mare.

The team also announced the release of starting LB Robert Jones in order to get under the salary cap.
Taylor Franchised, Martin and Thomas released (2/21/01)
The Dolphins designated DE Jason Taylor as the team's franchise player on Thursday. Taylor and the Dolphins failed to reach an agreement about a long contract when the NFL deadline for designating franchise tags arrived on Thursday. In that move Taylor is guaranteed a one year deal in the amount of the top five players in his position (more than 5 million). It effectivly rules out the possibility of him playing elsewhere. Taylor had a career year in 2000 registering 14.5 sacks. The Dolphins and Taylor were in a midst of a long contract negotiation. In order to use the franchise tag in 2002 the team is not allowed to sign Taylor to another deal before July 15, therefore the contract talks will continue on the 15th of July.
In order to make room for Taylor's franchise tag the Dolphins released WR Tony Martin and RB Thurman Thomas. Martin will test the free agent market and if he doesn't find a team there is a possibility of him returning to the Dolphins with a reduced salary. RB Thomas will sign with Buffalo for a day and then retire.
Wannstedt signs extension (2/1/01)

Head coach Dave Wannstedt signed a one year contract extension. He is now signed till the 2003 season. A report in the Sun-sentinel said the coach declined a 10 year 17.5 million contract to coach the university of Miami. Wannstedt coached UM for 3 years as former Dolphin coach Jimmy Johnson's defensive coordinator.
Buoniconti elected to Hall of Fame (1/27/01)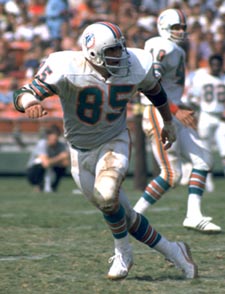 Former Dolphins LB Nick Buoniconti was elected to the Pro Football Hall of Fame. Buoniconti played with the Dolphins for 7 years after playing for 7 years for the Boston Patriots. He played in the 3 superbowl teams of the early 70s including the 2 champinoship teams among them the undefeated 1972 team. Buoniconti was the leader of the 'No Name Defense', that led to Miami's back to back superbowl victories.
Westoff, Burdeau fired. Gailey signs 2 year extension (1/9/01)
The Dolphins fired two coaches from their staff. OL coach Paul Burdeau was fired after two years with the Dolphins. He was fired even though the Dolphins made big improvements in their OL play. The Dolphins also fired 15 special teams coach Mike Westoff. Westoff coached Miami's special teams for 15 years going way back to the mid 80s during the Don Shula years. Both of them were fired because coach Wannstedt wants to bring coaches that he trusts to those positions. Offensive coordinator Chan Gailey was also signed to a two year extension. The contract, however, still gives Gailey the chance to get a head coaching job elsewere. If he doesn't get one he will stay with the Dolphins.
From 1970 to 2000 the Dolphins shared or owned the AFC east title in 16 of those 31 seasons and earned trips to the post season in 20 of those 31 years.