Dolphins vs Titans game Summary

10/9/16

Grading the Dolphins

QB Ryan Tannehill was awful. He completed just 12 passes (out of 18), threw 2 INT and had 6 sacks. The ,ost important stat - The Offense scored 10 points, 1 TD. By the look of this team, the first overall pick.... F

RB Ajayi had his moments (without blocking). Drake dropped a sure 1st down. The Dolphins had 51 yards rushing AS A TEAM. 3 Titans had more as players! D

WR Parker was invisible (1 catche, 1 INT). Landry had 3 catches for 28 yards and Stills had ZERO. That's just bad. They were not open all day. F

OL The Dolphins O-line was a mess. Tunsil and Albert did not play but Pouncey did. Billy Turner tried to play LT - that was a disaster to go along with another bad game for James. The interior wasn't much better. They did not know who they are supposed to block. 6 sacks and should have been more. F-!

LB The run stopping was... drum roll - 235 yards allowed. enough said. F

DL The run stopping... and the zero pass rush - What a stat for the D-line - 235 yards allowed and ZERO sacks. F-!

Secondary Maxwell can not tackle, Lippet isn't much better. But why defend the pass, the Titans were going to run all day anyway. C

Special teams So JAkeem Grant can really run after all. He had a great 75 yard punt return TD which is - the same amount of TDs the offense had and more rushing yards than the offense by 50% in one play. A for Grant and that play

Coaching That was just unacceptable. Just a poor showing. The players didn't know who to block, the play calling was awful and the team after 10 days looked lost. The first overall pick is in sight - they are that bad. Much worse than the Browns, Can they really beat Alabama ??? F-!




On the 1st of November, 1970, RB Mercury Morris, gained a Dolphin record of 302 combined yards. He ran 8 times for 89 yards, received 3 balls for 68 yards and returned 6 kicks for 145 yards.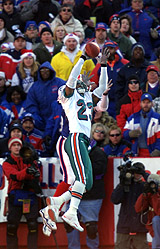 CB Patrick Surtain