Dolphins vs Tennessee game Summary

10/18/15

Grading the Dolphins

QB Ryan Tannehill did not play very well. The second INT was just a bad play. He did have some great throws when it mattered the most, including a perfect 38 yard pass to Stills from his own endzone that swinged momentum back to Miami. He finished the game with 22 of 29 for 266 yards, 2 TDs and the 2 INTs. He was sacked twice. B

RB Upon further review it was confirmed that this was actually the same running game of the first quarter of the season... The Dolphins had more yards in the first quarter than they had in 3 games this year and by halftime we already had a new high. Miller was great with 19 rushes for 113 yards and a score. Miami rushed for 180 yards and 2 rushing TDs. A

WR Matthews caught 6 balls for 85 yards and continues to play well. Stills had a perfect 38 yard pass but was otherwise quiet. The Dolphins did not need to pass much. Dion Sims looked great after the injury with 4 catches for 33 yards and a TD. Jordan had the other TD. B

OL The Dolphins O-line was much better run blocking and the pass blocking was OK. Dallas Thomas did have his 3-4 usuall bad plays (including a sack). Turner started for the firstt time with mixed results. It does help having Albert back. B

LB They played great. As funny as it sounds Misi and Jenkins played a very good game. Misi led the team in tackles and played very well. B+

DL Wake's stat line: 4 sacks, 2 holding penalties for him, 2 forced fumbles. That's an A+ all by himself. Vernon had a sack (and 2 roughing the passer penalties), Suh also played very well. A+

Secondary Grimes had a huge INT and Jones had a pick 6. The Titans are an intermidiate passing team and they did have some success but the two huge plays came exactly in the right time. Bobby McCain is a nice rookie 5th round surprise. Brice McCain was injured. Kovacs got a sack in garbage time. A-

Special teams An off day for Matt Darr, but they did not really need him or Franks. They were one illegal block away from a long punt return, close... They did give up a 34 yard kick return. C

Coaching First game for interim coach Campbell and DC Lou Anarumo - OK... That was different... The Dolphins made lineup changes (they worked), played agressive, had a brilliant challenge that got them the ball and they changed things up and looked like an agressive hungry ready to kill somebody team. Exactly opposite from the Philbin era. The best outcome possible for the new regime. Can Campbell keep this up ?? A+




On the 1st of November, 1970, RB Mercury Morris, gained a Dolphin record of 302 combined yards. He ran 8 times for 89 yards, received 3 balls for 68 yards and returned 6 kicks for 145 yards.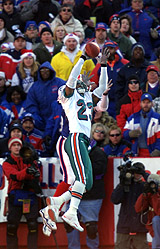 CB Patrick Surtain