Dolphins vs Titans game Summary

11/14/10

Grading the Dolphins

QB Pennigton was hurt in the first play of the game. He lasted another one, a 19 yard completion before he left the game. He is probably out for the year with a shoulder injury. Henne came into the game and started OK then picked it up. He had a very very solid third quarter before suffering a serious injury and leaving the game a minute before the end of the 3rd quarter. Brown was the QB for a few plays until the 4th quarter arrived when Tyler Thigpen entered the game. Thigpen led an 85 yard TD drive showing his greatest advantage, running around and getting something out of seemingly lost plays. Henne was 19 of 28 for 240 yards 1 TD and 1 INT. Thigpen was 4 of 6 for 64 yards and a TD. Marshall threw once incomplete (4 guys covering his receiver...). Ronnie Brown also took snaps out of the wildcat but did not throw a pass - wild day. B-

RB The Dolphins could not run. They had 15 rushes for just over 1 yard per play before the Henne unjury. Then on two consecutive runs Ricky had 38 yards (he almost broke the second one all the way). He finished with 11 carries for 64 yards. He also faked the run on the flea flicker perfectly. Ronnie fared much much worse - 12 cariies 11 yards... but he did score a TD C-

WR Brandon Marshall had his worst day of the year - 3 cathches for only 34 yards. He was so bad he is not on pace for a hundred catch year anymore. On the other hand, Hartline and Fasano had career days. Hartline 5 catches for 98 yards including a 54 yard catch on a flea flicker. Fasano was even better 5 catches for 107 yards and a TD. He also caught a 31 yarder from Thigpen after a Thigpen scramble bought more time in Thigpen's TD drive. A great game for both. Bess was also very quite, only 4 catches. B

OL The Dolphins run blocking wasn't that good. The pass blocking was better. Long was injured but he played a very solid game despite the unjury. Procter got into the game a little bit. If Long can't go on Thursday maybe Procter will get his chance at RT if Carey is moved to LT to replace Long. C

LB Chris Johnson was the best player on Sunday, but that's usually the case in any Titans game. Crowder missed on a few tackles. Wake was injured and we will have to see if he can go on Thursday. B-

DL The run defense wasn't very good but they did play far better than last week. Langford was quite. Soliai and Starks made a few plays and deflected some balls. B-

Secondary Great game for the secondary, they totaly dominated the Titans pass offense. Kerry Collins finished the game 9 of 20 for 51 yards and Young wasn't much better 9 of 18 for 91 yards a TD and an INT. Reshed Jones had a huge day. He played more because of an injury to Clemmons and responded with a sack and an INT. Bell led the team with 8 tackles. A-

Special teams Every kick is still an adventure.... The Dolphins never go for a first down on 4th and 2 from opposing 35 yard lines but tried a fake punt on 4th and 3 deep in their end of the field. The fake punt failed .Caroll had a 38 yard kick return. They also gave up a 30 yard punt return. C

Coaching A wacky game. After all of the talk about Pennington he lasted 2 plays. 4 guys played QB (Pennington, Henne, Thigpen and Brown), Marshall also threw a pass. The fake punt looked weird as far as the timing but the team took chances on a Marshall throw on a reverse wildcat play and they also ran a perfect flea-flicker going for 54 yards. Long and Wake were also injured and Clemmons missed times. A win is a win, they only have 3 days to prepare for the Bears and that is unfortunate with the injuries but we'll just have to wait and see. B




On the 1st of November, 1970, RB Mercury Morris, gained a Dolphin record of 302 combined yards. He ran 8 times for 89 yards, received 3 balls for 68 yards and returned 6 kicks for 145 yards.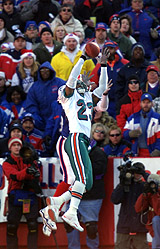 CB Patrick Surtain