Dolphins vs Seahawks road game Summary

9/11/16

Grading the Dolphins

QB Ryan Tannehill started OK altough he threw passes that hardly made the line of scrimmage and you just can not win like this. When he started to throw deeper we understood why he did not try before because his receivers did not have any separation (to go along with a couple of drops). He did run OK and he had a great 86 yard final drive to put the team in front and give the D a chance to win it for Miami. He finished 16 of 29 for 186 yards and 5 rushes for 17 yards and a TD. He looked better than last year but there was no push from his line and the WRs weren't open. tough game. He did have a perfectly thrown 71 yard pass to a wide open Kenny Stills that was dropped. He looks better throwing deep. C-

RB Arian Foster tried to run and looked experienced. He flashed a few moves but there was absolutely nowhere to run. He finished with 13 carries for only 38 yards (less than 3 yards a carry) but took a swing pass 50 yards. Damien Williams had two more insignificant rushes. C-

WR The Stills drop was just awful. Ryan threw a perfect pass which should have easily been a 71 yard TD. Stills' defender was at least 4 yards away and it was a perfect pass he just dropped it. He just had a bad day. Landry wasn't much better and could not get any separation and Ryan tried to force him a few balls (7 catches for 59 yards). Stills and CArro combined for just 3 catches and Jordan dropped a pass. Sims wasn't even targeted. Ouch. D-

OL The Dolphins O-line pass blocked OK but there was no where to run. I understand the Seattle line is very good but the team really can't win like that. There were mistakes (including by first rounder Tunsil). They did however looked better than last year... D

LB Kiko Alonso had a few solid tackles and Paysinger saved the day for a while with a special teams tackle. Yhe Seahawks scored 12 points. Enough said. A

DL The Dolphins have potential there. Super Mario turned a swith and looked different than the pre season. He is a huge man (even when he is standing near linemen!). Suh (usual) and Philips also had solid games. Jason Jones also looks like a good buy. Wake started slowly but he will get better as the season continues, he always does. 12 points. Enough said. A

Secondary The Seahawks went right to work on Xavien Howard and had some success (he ended with 11 tackles...) but he does look like a starter. The safety combination looks promising (Abdul-Qudus had an INT). They had a decent game (they were helped by the Wilson injury) B

Special teams They just blew it on the missed 27 yarder and the big return they gave up. It was probably Tunsil on that missed FG but it was devastated. The team went with Landry as the return man on dangerous punts and Grant for the rest. Grant is just SUPER fast. He looks like he has another gear. They must somehow try to get him the ball on offense. He had a good game and a nice 45 yard return. D-

Coaching I totally understand going for it on 4th and inches. The Dolphins could not sustain drives and Gase knew he won't have many opportunities deep in Seattl territory. The timeouts were OK. It looked a little vanilla at the end. They did have a great defensive performance that should have been enough. However the the offese looked slow. Maybe Grant plays offense. Now it's on to the main event at Foxboro. The game will go a long way in determining the season B-




On the 1st of November, 1970, RB Mercury Morris, gained a Dolphin record of 302 combined yards. He ran 8 times for 89 yards, received 3 balls for 68 yards and returned 6 kicks for 145 yards.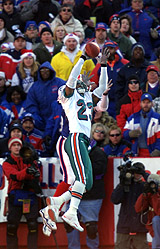 CB Patrick Surtain