Dolphins vs Seahawks game Summary

11/25/12

Grading the Dolphins

QB Tannehill led a comeback win at the end and played very well at the end. He did have two horrible throws, the first resulted in an INT and the second was an INT that was negated by penalty. The second one should have ended the game and was just a rookie mistake (running right throwing left into double coverage in the endzone on first and goal...), Other than those two throws he played very well finishing 18 of 26 for 253 yards a TD and an INT. B+

RB The running game was just brilliant. Thomas is playing bette than Bush for some time now but today both of them played very very well. Bush - 14 rushes for 87 and a TD, Thomas - 9 for 60 yards and a TD. A

WR Bess was great and so was Charles Clay. Bess had 129 yards on 7 throws including a 39 yarder. Clay had 6 catches for 84 yards and a game tieing 29 yard TD. Great game for him too. B+

OL They played OK most of the time, The passing game was OK and Tannehill managed to run a few times very well when he had nowhere to go with the ball. The run blocking was excellent. B+

LB Dansby had a nice game as did the entire front 7. They managed to stop the Seahawks run game which came into the game as one of the best in the league. B+

DL Starks and Soliai had a monster game. They penetrated the Seahawk O-line all day and had great push. Soliai seemed in the backfield all the time. Just a great game for the DTs. Wake did not get a sack but played OK. A-

Secondary Russel Wilson looked very very good and they were one roughing the passer penalty from being the reason the Dolphins lost. He was 21 of 27 for 224 yards and 2 TDs. RJ Sanford got some time at CB. C

Special teams An awful game. They gave up a 98 yard kickoff return for a score. They gave up a punt return for a score last week and this is just inexcusable. Carpenter saves the day with a great 43 yard game winner as time expired. D-

Coaching Just a solid game and a nice come from behind win. Tannehill showed promise in leading the Dolphins from behind 3 times in the 4th quarter. They called a very good game although giving up another TD in a kick return is just inexcusable. It almost cost Miami the game. B+




On the 1st of November, 1970, RB Mercury Morris, gained a Dolphin record of 302 combined yards. He ran 8 times for 89 yards, received 3 balls for 68 yards and returned 6 kicks for 145 yards.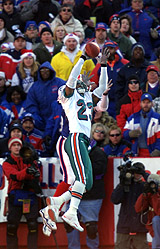 CB Patrick Surtain